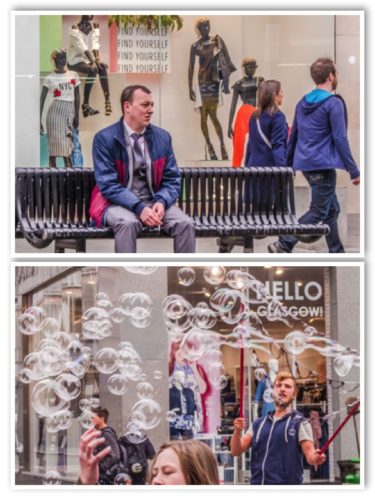 Got the bus in to Glasgow and went up Sausage Roll Street.  Got another spare pair of reading glasses from Flying Tiger which turned out to be the wrong strength!  (Note to self 1: 1.5 diopter readers from Flying Tiger not 2.0 diopter, Numpty) Then on to Blacks where I'd checked out a potential jacket last week.  This time I bought one.  Not  the one I'd checked out, but that doesn't matter, this one fits and I like it.  The Bergy I bought in Embra will now go back.  I also bought myself a cook book because I liked the look of some of the recipes.  Foodies, what can you do with them?  On the walk down Sausage Roll Street, an Asian girl stopped Scamp and asked if she would take a photo of her with the two guys she was with.  Scamp just pointed at me and the girl gave me her camera, a Contax.  A Contax film camera.  What a beautiful piece of equipment.  I took two photos of the group as directed.  It was so strange to take a photo and not be able to see the result on the back screen.  I hope they turned out.
Next, it was down to Paesano for my BBL (Belated Birthday Lunch.)  Pizza No 3 seeing as you're asking.  Anchovies Olives and Capers, washed down with a glass of Shiraz.  Very nice.  Down, further still to Argyle Street which is where today's photos come from then the slow crawl back up to the bus station via Cass Art to buy some A4 HP watercolour paper.  HP means Hot Pressed i.e. smooth, no tooth.  Never used it before and haven't had a chance to use it tonight.  Also via The Counting House for some cheap (and nasty) beer (Note to self 2:  Don't buy Devil's Backbone IPA, it's fizzy and tasteless) and some "ok, but nothing special" Botanist G&T for Scamp).  Amazingly it cost just pennies over a fiver, so we shouldn't complain too much.
Plodded on to the bus station and got the bus home, to find that the parcel had arrived from Hazy.  As usual, you are just as imaginative as your brother.
Who would have thought that a pair of boxer shorts would make a great birthday present?
Well, they would if you had to make them yourself!!!
Who'd have thought some mushrooms would have been a great birthday present?
Well, they would if you had to grow them yourself!!!
Thank you both for your imagination.  I loved them, although the mushrooms look easier to grow than the boxers will be to sew.
That's about it for tonight, other than I've been trying to delete 500, yes, 500 files from my NAS drive and it was driving me crazy until I found a neat solution on the 'net that blitzed them in a trice.  That bloody iPhone had been downloading another update on  the fly.  It took up 1.2GB of space on the phone.  I can't afford to lose that amount of space just because Apple wants to bugger up my phone, so it also has now gone into the ether.
Tomorrow I may go to Perf.  On the bus.