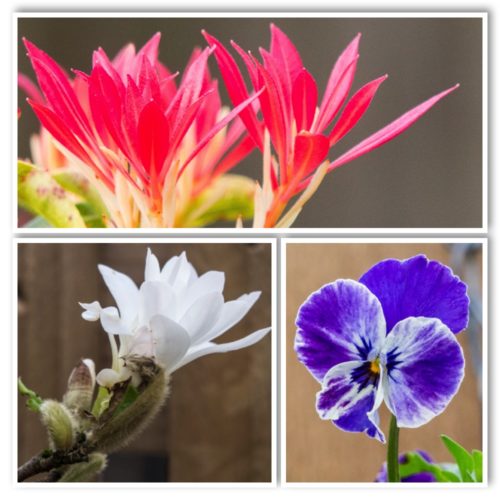 As usual on the day after a long drive, I didn't feel very much like going anywhere.  The furthest I got during the day was out into the garden to photograph these flowers.  Scamp thinks the violas look like her earrings and I have to agree with her.  What do you think Hazy?  I like violas, they have such cheeky wee faces.  The red plant is Forest Flame and the red parts aren't really flowers, they're leaves.  The flowers are quite insignificant little white bell flowers, like lily of the valley and they are just beginning to fade now.  Scamp's mum called it a Living Flame and that's an equally good name.  The white flower is from our Magnolia Stellata.  It was looking very sickly, but Scamp has nursed it back to health.
Like I said, I didn't do much today.  Tonight I went to salsa and made an absolute hash of the new move, Tambor.  Maybe by Wednesday it will have sunk in enough for me to pick it up again.
I really should have gone out for a walk today because the sun shone most of the day and it was dry, although there was a strong, cold wind.  Must get up and get out tomorrow.  This inactivity is not good for you!