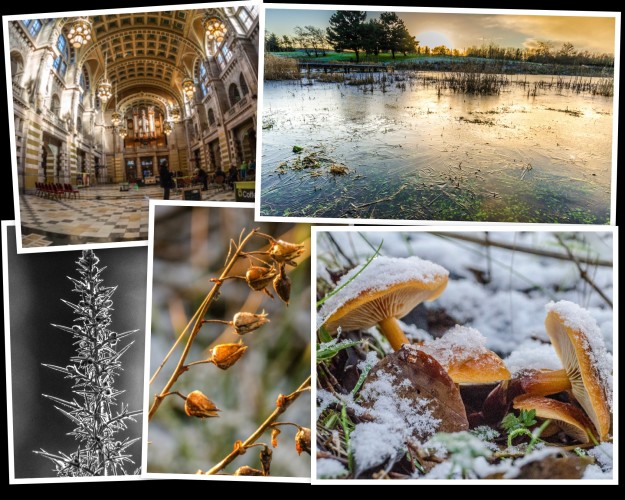 Another bright morning, bright but cold.  Since I was going to a sewing machining class, yes, that's right a sewing machining class in Glasgow tonight and I wanted to see where it was, we decided to drive in to Glasgow.  It was really quite easy to find and it was near Kelvingrove Art Galleries, so it made sense to just stop and smell the roses, or look at the pictures.  It's ages since we spent any time in the (F)art galleries, many more ages since I took a critical look at the paintings.  I won't say I learned a lot, but I did see some intersting techniques that I'll have a go at.  Since we were on quite a tight time schedule we left without listening to all of the organ recital, but it didn't look as if Bowie was on today's playlist.
I had an hour or two before I needed to get my threads and needles ready, so I went for a walk through St Mo's.  Saw a deer in the distance, but that was it as far as the wildlife was concerned.  Even Mr Grey was absent.  Got some pics of frozen and snow covered toadstools.  We don't often get toadstools in January, so this is another sign of the mild weather of the last few weeks.  Temperature is dipping quite drastically now though.  Frosted cars in the morning and the grit lorry making its rounds tonight.
Speaking about tonight, I drove into Glasgow to go to the Sew Macho class.  Couldn't find the actual studio at first.  Luckily there were other dressmaking hopefuls there too and one of them knew where we needed to go.  Only four in the class and I, of course, was the oldest by far.  It was a really, really interesting introduction to the mysteries of the sewing machine.  When I was at school I wasn't allowed to take Home Economics  – boys did Woodwork or Metalwork and girls did Cookery or Sewing and never the twain would meet.  I'd played about with Scamp's sewing machine forty odd years ago, but apart from making strings of little ducks and little dogs, I didn't do anything with it.  I was always scared I'd punch a hole in my finger with the needle, or I'd break the needle, maybe even both!
Tonight I learned to:
Set up the machine.
Spool the bobbin with thread and load it.
Do Single Stitches
Do Zig-zag Stitches
Make a Simple Hem
Make a Blind Hem
Sew in a patch
Sew on a button
All taught with good humour and confidence by teacher Jenny.  I even managed to patch an old pair of jeans.  I think I will dig out the old sewing machine and see if I can remember some of the techniques.  You never know, I might even make myself a tee shirt … someday!