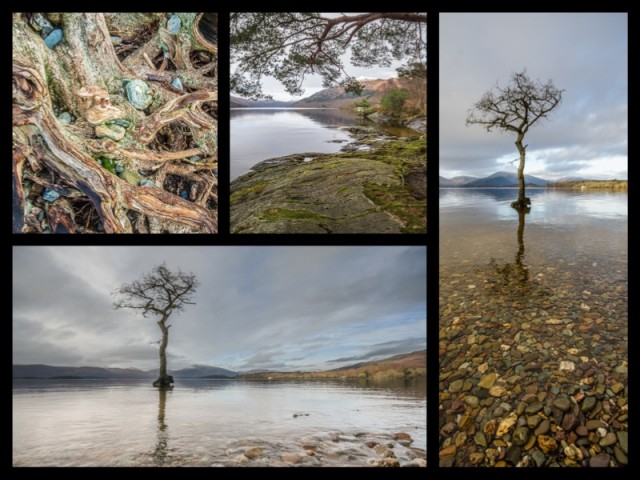 Today we woke to sunshine, just as the weather fairies had predicted, so it was up and out early.  We took 'pieces', that's sandwiches to you unenlightened ones, and we took a flask and all the makings for a cup of coffee and tea and pointed the car at Loch Lomond.  In particular, we headed for Milarrochy Bay on Loch Lomond to see and photograph the famous Milarrochy Tree.  It's a tree that once stood on the banks of the loch, but is more usually part submerged a few metres from the shore.  Google "Milarrochy Tree" and you'll see the tree photographed in every time of the day and on every day of the year.  It's quite a Scottish icon.  In its way it's as famous as the waterfall at Buachaille Etive Mor.  Google that too if you like.  We can't remember the last time we went to this spot, but it must have been at least four cars ago, and maybe longer.  It's a strange way to count time, I know, but it works for us.
Thankfully when we got to the carpark it was deserted so I could spend as much time as I wanted shooting it with all different lenses and all different settings with both cameras, but not at the same time.  That would be taking things too far.  All in all, I think I took about 90 shots of the tree.  If you think that's overkill, you're not a photographer.  After eating our pieces and having our cups of coffee we headed up to Rowardennan and the end of the road, well almost, because the predicted clouds were rolling in from the west and looked as if they had been loading up with snow which they were set on dropping any time soon.  Took some shots of the loch which is quite a boring stretch of water with some foreground interest from some rocks and tried to frame the youth hostel with an overhanging pine tree.
After that it was back home in time for tea, well more coffee actually.  It was great just being out in the daylight watching the play of light on the hills.  The sun had shone all morning but then it got tired and had to rest behind some clouds.
A day to remember.