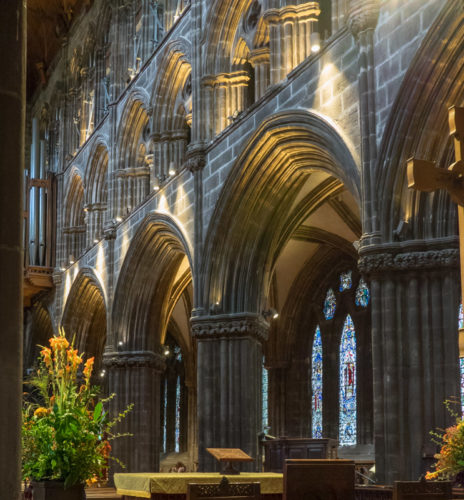 Culture in Glasgow? You're having me on, aren't you?
Drove in to Glasgow and managed to get parked within easy walking distance of Glasgow Cathedral, so we tested it out and it was indeed easy walking. To quote Chic Murray, it was just '"putting one foot in front of the other." Surprisingly, this was probably the first time I'd been in the cathedral. I've walked past it a few times, sketched it once, but never gone past its enormous doors.
We walked through into the Nave which was very impressive, especially the rafters made from very heavy looking timbers. However the roof in the choir was even more artistic with painted bossed on the ridge. Clive wandered down Blackadder's Aisle, just to say he'd been there. Blackadder himself didn't seem to be in evidence, but I went down too just to check.
After our brush with religion, we crossed the road to Provan's Lordship which is the oldest house in Scotland. Tiny little doorways with very low lintels. Tight little spiral staircases. Very interesting building with a beautiful, if slightly overgrown herbalist's garden at the back. We saw all sorts of herbs growing there, but I'm not sure I'd trust some of these herbs to cure the things they were reputed to fix. Favourite part was the big water feature whose bubbles and splashes filled the garden with water music. Very calming.
Onward and under Scamp's unerring directions in central Glasgow, we found our way to Kelvingrove Art Galleries and found a space just where we wanted. Scamp and Clive sat and listened to the choir for a while the I went for a walk to see the Spitfire. Clive joined me and we went upstairs to view it along the wing. Such a beautiful bird. Coffee after that and a scone. Then it was time for home.
My turn to cook and it was stewed steak which I was making using Scamp's recipe. It turned out fine, but could have been a bit better if I'd started it earlier and slow cooked it for longer. However there were no complaints at the table. Scamp had the remaining sea bass instead of stew.
Struggled to find out why my Inktober site wasn't listed in Flickr. I eventually found it listed as an inactive group. I can find no way to make it active and no help from the Help Page. Wrote to Flickr Support, but have little chance of any real support.
PoD was a view inside the Nave of the cathedral.
Tomorrow hoping to head for Perth.