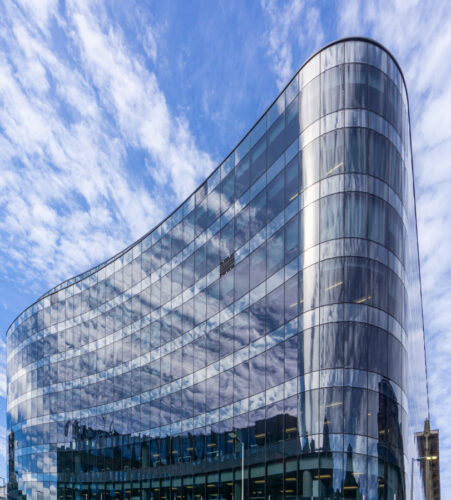 A much cooler day.
We probably sat around too long this morning. We should have been out enjoying the sun and the breeze on a much more pleasant day. Eventually when Wordle had been completed by us both, we got our act together and drove in to Glasgow, me to get my hair cut and maybe look at trainers and Scamp to possibly look at shoes and maybe collect some foreign money.
First stop John Lewis, top storey for the money. After that we split up. I went to the barbers and Scamp went to Buchanan Street to look for comfortable walking shoes. I did get my hair cut (No4 on top and No3 on the sides and back). In and out in less than 20 minutes. That's good going. We walked down to Tiso where I eventually settled on a pair of Columbia trainers. It was the same bloke who served me last week. The one who explained the good and bad things about every shoe in the shop. He was explaining to a new-start that the mountain in one of the pictures was the Quiraing, and that he used to live in a little village called Staffin at the bottom of that mountain. To break the ice I said "So you lived in Staffin?" He replied that he lived there until he was 5, and then left to go to the big city, Portree. We told him about our connection to Staffin and then got down to business. He gave us a discount on the shoes and Scamp thinks it's because we'd been to Staffin. I think he was just glad to see the back of me after my fruitless search last time.
Back home and it was getting warm again. I'd saved some pennies on the trainers, so I felt I could splash out on some petrol. Just enough to take us over half a tank. Prices are coming down. Today's price was 189.99 for petrol and 195.99 for diesel. Not brilliant, but a step in the right direction.
We read in the garden for a while when I came back but then Angela's wee grandson was wandering about shouting and having a laugh in his sandpit, so I came in to peruse today's photos. My favourite and eventual PoD was 110 Queen Street. It's taken about two hours to get it from what I saw in the viewfinder to what I'd like to see on the screen. Nothing is 'real' in photography.
It's now down to a two horse race in London. Liz Truss v Rishi Sunak. I think they should dispense with formality and make it "Strip to the waist and fight to the death", except that would mean Truss would win!
I ordered some coffee and tea from the Bean Shop in Perth and it's coming tomorrow. Have a look on their website, Jamie. Their selection of coffees is drastically reduced! I think they may be in trouble.
No other plans for tomorrow. We may go out and use some of that expensive fuel.