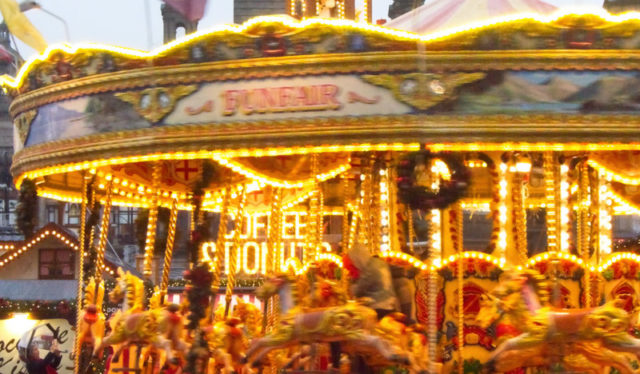 That's what Pooh called it. We call it a Scottish winter.
It was just a wee bit wet when we woke, but soon Storm Dorothy made its presence felt. Now Storm Dorothy was named by the Portuguese weather forecasters. I may be wrong, but I don't think 'Dorothy' is a typical Portuguese name. Like I say, I could be wrong, but it just doesn't have that Iberian feel to it. Anyway, that aside, Storm Dorothy was rolling in and by the time we were walking down through Santa's Wonderland that used to be George Square in Glasgow on our way to dance class, it was beginning to get quite blowy and the rain was ferocious too.
We had a private lesson today because we were the only ones at our level in the Jive class. That meant Michael could focus his laser-like gaze on all of our mistakes, and there were a few of them. We went over the Seven Spins and learned all the little nuances we hadn't noticed before. Waltz was similar, but finally I think I have sorted out the second part of the routine. It's taken months, but it's becoming clearer. I just hope we get some time to practise before next week and I can definitely clarify it in my head. By the end of the class my knee was really sore and it's still sore tonight. It's all to do with having to twist on my left leg twice to perform the double turn. It does work, in that it puts us both in the correct position at the correct time to go on to the promenade. It's just puts a big twist on my knee.
Walked back up to the car park and although the rain was not as heavy, the wind, if anything was getting stronger. It didn't stop me from getting the PoD, taken from a bus shelter looking over to a roundabout on George Square. I liked the warm colours and the movement in the horses on the roundabout.
We made the decision on the way home NOT to go to Salsa class tonight. My knee was too sore and the combination of wind and rain would make driving miserable. Shannon will probably think we are in the huff after Monday night. Let her think that!
Tomorrow, Scamp is going in to Glasgow herself, probably to go on the Big Wheel in the wind, and I'm meeting Fred for coffee.