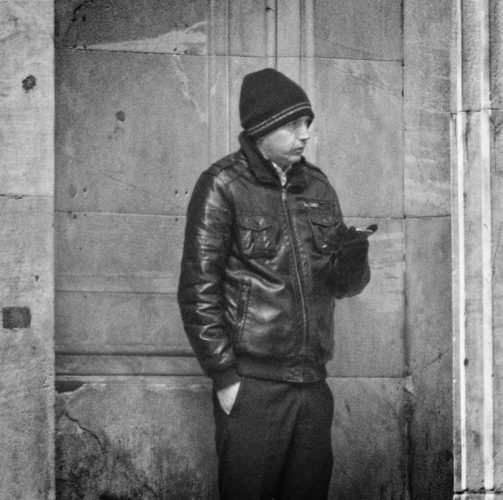 Off into Glasgow on my own to see if Christmas has arrived yet.
Scamp offered me a lift to the train station and I accepted. I couldn't face JL with all its glitter and sparkling lights and xmas songs. Instead I wandered down Bucky Street which had glitter and sparkling lights and buskers who weren't singing xmas songs yet. Wanted to send a pic to Scamp, but forgot that my data allowance is down to 18MB! Then I remembered that Glasgow has free WiFi now, so got connected fairly easily to BT. Walked into HMV and noticed a new Dylan album. Walked outside and downloaded it to Spotify using my new best friend, BT!
Managed a couple of photos in Glasgow, outside the GOMA, but the light was pretty poor, so the photos ended up a bit grainy. However, with a bit of help from ON1, I managed a fairly decent PoD. I called it "Cold Caller".
Bus home and stir-fry for dinner. Scamp had already been out for lunch with one of her friends, but she helped me finish it off.
That was it for the day. None of the half a dozen rum 'n' cokes or three course dinners we had last week. Just boring dull Scotland.
It appears we have some sort of rodent in the house. We've heard it occasionally in the past, but now it's becoming more apparent that it has to be dealt with. In the past we've had problems with mice in a cupboard, but after despatching about ten of them over the course of a month they seem to have disappeared. This one may be a squirrel and we need professional help to dispose of it. Phoning the council tomorrow and we'll see what they can do. Apparently they are quite efficient. We'll see.
Dancing tomorrow we hope!