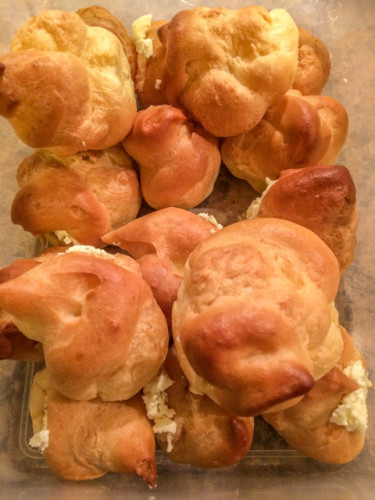 This morning I made choux pastry for profiteroles.  Under the careful tutelage of Chef Scamp.  Such a faff, I kept asking myself was it really worth it.  It was!
While I was doing that, Scamp was filling the kitchen with the smell of garlic, was it worth it.  It was!
After that, it was time to make the bread, and adjust the texture of the dough, was it worth it. Hmm, not really – possible the worst loaf I've made in a long time.  Oh well, you can't win them all.
After all that prep, it was time to go visit Dorothy.  Spent an entertaining hour with her an Colin, then drove back to more Masterchef Mysteries.  This time I was in charge of beating the cream to make the filling for the profiteroles, then the additional faff of squirting it into the choux pastry blobs.  Fiddly.  Was it worth …
After that, my kitchen chores were over for the day all but over.  Just tidying up the living room and then I could sit down while Scamp refilled the kitchen with the scent of garlic.  Vampires beware, this kitchen is off limits.
The dinner made everything worthwhile.  Starter to Coffee, it all tasted great.  Busy day, but it was a successful one.