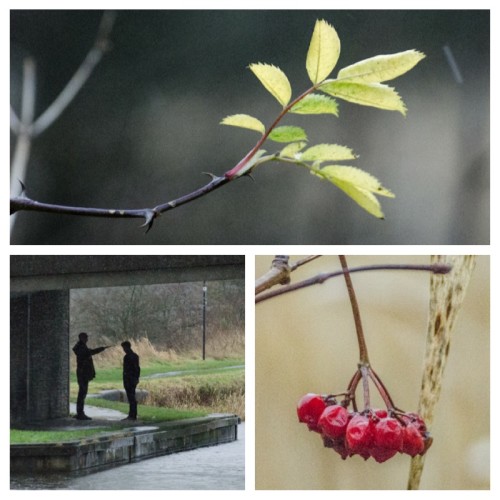 Ah, this was a better day, relatively speaking.
Added another layer of acrylic to my painting while Scamp went shopping this morning.
After lunch, she went swimming and I went for a walk which almost turned out to be swimming as I waded through enough puddles to test my new boots to destruction, but thankfully they (and I) survived unscathed.  It rained all the way on my walk from Auchinstarry to Dumbreck and back along the canal.  There was very little to see today on either path, but I did catch an interesting conversation near Auchinstarry Marina that could easily have been misconstrued from the evidence of a single still photo!
When I got back and had dried out I added some more daubs to the now overloaded canvas, but I'm getting the feel for where I'm going with it now.  Impasto with acrylic paint is great fun to apply, but the very devil to remove.  I think I'd rather just chuck the canvas away rather than try to scrub it down.  It reminds me of colourful artex!
I'm hoping to have a go at the first draft of my 2016 calendar tonight.
I think it's still raining.