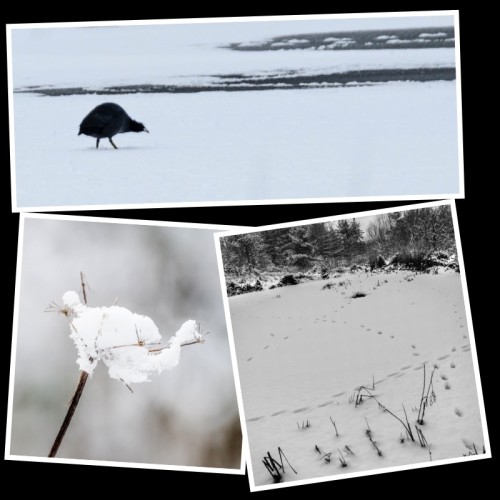 Well, that's the way it looked when we got up.  When I say 'got up', I really mean got out of bed, looked out the window and went back beneath the warm duvet again.  I'm not sure if it had snowed during the night, but the temperature was hovering around zero, so it might have.  Didn't do much in the morning apart from clear up the kitchen a bit.
In the afternoon I struggled into my boots and gaiters to take a walk across to St Mo's.  Lots of deer tracks, but no sign of the actual beasts themselves.  Spent some time watching the coots and ducks sliding across the frozen pond.  Managed to find a puddle hidden under a covering of snow on a layer of grass.  It was deep enough to reach up to my knees and cold enough to take my breath away.  That alone shortened my walk.  No tramping through the trees today, not with frozen tootsies.  Got a few photos of tracks in the snow, but nothing interesting.  There wasn't really enough directional light to create the shadows you need when photographing snow.  Came home, dried off and stared at a glowing screen 1 for an hour or so.  I don't suppose I will ever learn.
That about wraps it up for today.  We should have gone to salsa tonight, but the weather station said it would snow and the temperature was dropping from its high of 3ºc and we weren't really all that bothered.  Hopefully we'll go to class tomorrow.  Tomorrow is another day.
---
"Maybe we spend too much time looking at glowing screens." 22 December 2015 ↩