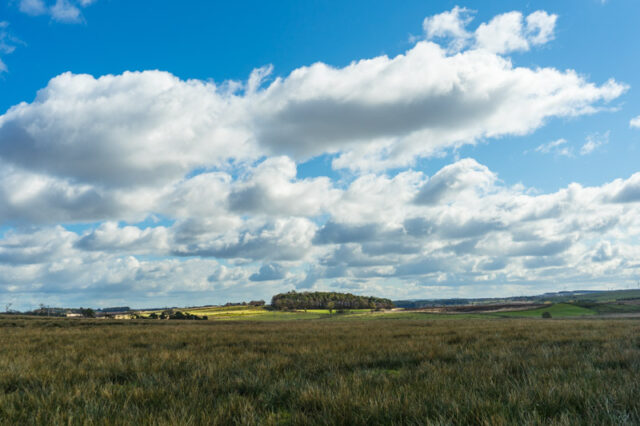 A quick visit to Val than a drive in the country.
I was checking out my Tamron (not my Tampon as my spellchecker thought it was) 70 – 300mm lens on Val's old Nikon D70. The lens did work, if sporadically. At different times during the five minute test, the focus worked and the anti-shake worked, but only once did they both work together. It looks like it's not going to be saleable, which is a shame. How it came to this sorry state, I don't know, but it has and now I can only use it as a manual lens without anti-shake. I think, instead, I'll just replace it.
I didn't want to linger at Val's because I knew he was busy today and also I really shouldn't have been in his house at all with all the Covid restrictions. So, I made my excuses and left to take a drive up into the country behind Fannyside Loch and parked up by the sheep's field where only the wind through the trees created any sound. That's where today's PoD came from. I was just walking and taking the odd photo when a little spot of sunshine lit up the hill and I grabbed the shot without thinking.
Drove home and had lunch. That's when we heard the news that the Duke of Edinburgh had died. What should have been the news at midday was extended. In fact it might even have segued into the evening news. It made me wonder how they'd managed to fill the hours with news that had broken only a few hours before. I presume that since the last time the Duke had come home from hospital there had been an unofficial leak about the real state of his health which allows all the news channels to gather all their clips and photos to build these obituaries that they show with such sad faces. Scamp says that she's sorry for Mrs McQueen because a death of anyone is a great loss to someone. I'd agree with that.
We walked to the shops to get some creme fraiche for tonight's dinner which was Haddock & Cabbage Risotto. We also got other stuff that wasn't essential for tonight's dinner, but did make the pudding better. Ice cream, just in case you were wondering. It was cold walking down to the shops, into the wind, but was almost warm coming home with the wind at our back. Even so there was just a light sprinkling of that fine snow, almost like tiny polystyrene beads. Strangely, when we did find a weather forecast tonight in the midst of all the sad faces of the royal correspondents, there was mention of the white stuff making a reappearance tomorrow or Sunday night.
Apart from my lens test and the walk in the country we didn't do much today. I don't think we have any plans for tomorrow, but it looks cold again.