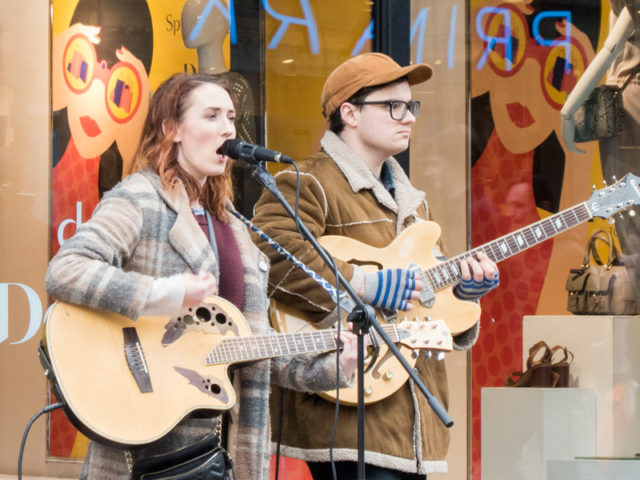 Today dawned cool and grey. A perfect day to go in to the toon on the bus.
We just missed the ten past ten bus which meant we had another half hour to wait for the next X3. We decided it would be quicker to walk over to Condorrat and get a faster one, a real express bus. Unfortunately, we got there at about 11.15 and the next bus wasn't until 11.38. Actually, I'll rephrase that, the next three buses weren't due until 11.38. Yup, you wait for 20 minutes and three buses come at the same time. That's good scheduling for you. Thankfully, the fastest one came first, well that's usually the case isn't it? 😉
When we get the bus in to Glasgow we usually just walk through JL as an quick way into the Buchanan Galleries (After a trip to the second floor 'toy shop'). Not so today. There was a sign on the shutters saying the doors were 'being maintained' in other words, 'broke'. We traipsed with a whole load of others from the bus round and through the side entrance where a gaggle of women just stood there, one of them shouting that she'd "I've completely lost my bearings". Not only your bearings Mrs, I think your big end's gone as well. I went to have a look at the toys, but JL weren't giving anything away cheap. They never do, but it's always a good idea to look anyway, just in case. Walked through the Gallery and decided it was nearly lunch time and we'd dine Italian at Sarti's today. Food was good, wine even better, then we went for a walk down the town. Bumped into one of our 'expert girls' from Jive class in the Argyle Arcade. Apparently she works there.
While I went to Millers looking for some replacement pens, Scamp disappeared on an undisclosed expedition to find some secret thing. I found the pens in Millers which is just a shadow of its former glory as THE art shop in Glasgow. You used to be able to get everything from a needle to an anchor, art-wise in the original shop in Queen Street. Now it's owned by an Embra mob and recently has lost its upper floor due to the expiry of the lease. Today there was a queue. The two men who were serving were discussing with one customer the best place to go for paintings and prints of Glasgow while more and more people joined the queue. Eventually I got fed up and put the pens back and left. No wonder it's going downhill. The secret, guys, is to be friendly, but also to sell things. That's what shops do.
Met up with Scamp fresh from her expedition into the hinterland of Argyle Street. I listened to a couple of folk busking, then the rain came on and after a quick confab, they changed their song to "Raindrops keep falling on my head". I liked their quick thinking, got a photo and dropped some money in their tin. The photo got PoD.
Walked back up the hill and got the bus home. Thankfully we didn't have to wait too long for this one.
Tomorrow we're out early to drop a prezzy off at Shona's then we've a curry to make and later we're hoping to do a bit of dancing.