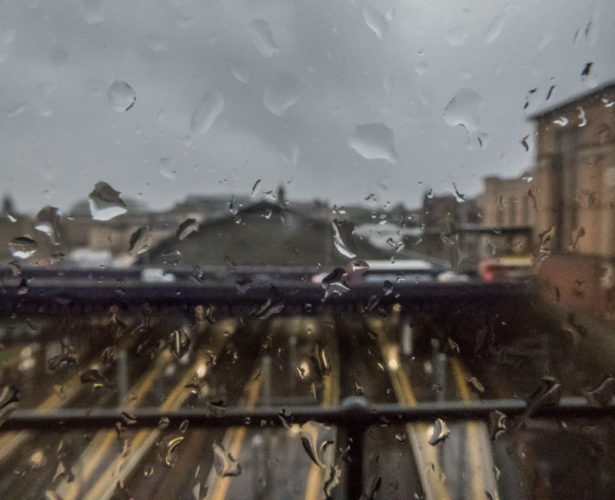 Scamp was determined to go into Glasgow today despite her heavy cold.  I needed my 'Pure Afro' hair reduced to a normal thatch.
Drove in today. Scamp was in no condition to face the rigours of travelling for forty-five minutes on a cold bus. It's a known fact that the heaters on the X3 bus only work from June to August. The rest of the time they blow cold air. Surprisingly for a Saturday, we got parked on level 4 of Buchanan Galleries without any bother. I'm guessing that Storm Dennis was keeping folk at home. On the topic of Named Storms. I think we may run out of names soon. This is only half way through February and we've already used up almost a fifth of our name quota.
While I went to the barber, Scamp investigated the bargains at M&S. As it turned out when I eventually came out of the shearing shop a tenner and a good bag full of hair lighter, it was me who secured the bargains at M&S. Got a new zip-up jumper and another new bunnet for my number 2 Bergy jacket.
We'd intended going for lunch somewhere, but after walking in driving rain for a while, we chose instead to have coffee and a bite to eat in Costa and then deal with dinner when the time came. As it happened, Scamp had made some Just Soup and that fitted the bill for both of us.
Drove home through more torrential rain and Scamp stocked up on alcoholic beverages for her trip to Inverness tomorrow.
Back home I struggled with today's topic of Rooftops. I usually find roofs and houses no problem, even from my imagination, but today I drew a bland. Well, actually I drew a few things that would have been better if the page had remained blank, so I left it until tomorrow. It's not the first time this February I've had to play catch-up.
PoD was a shot from the JL bridge showing a view of Glasgow that you wouldn't see on a postcard.
Tomorrow Scamp and her sisters are travelling to Inverness for a ladies overnight, and I'll probably be getting caught up with my blog, drawings and photos.