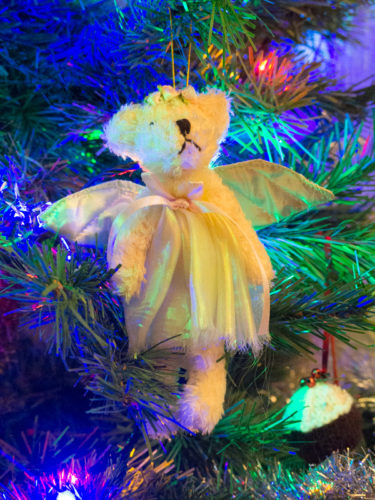 Today was a lazy day.  Scamp's meeting with Nancy was called off as the trains from Larky were also off.  Jackie left to head back up to Skye and texted us when she was on the bus to say that Mairi had passed her driving test first time!  Congrats to her.  I don't know if she'd dare to ask her dad if she could borrow the car tonight!  We drove to Bishopbriggs to get some essential stuff.
Made the decision to donate my Tamron 18-200mm lens to Val.  His need is greater than mine and it might just brighten his day.
Salsa at night was great, although as an aftermath of the Salsa Ball on Sunday, the classes were small.  Had great fun.  JamieG was looking for Christmas songs – salsa style for the extravaganza of parties next week.  Good luck with that.
I don't suppose it was a day of nothing done, really.  Oh and today's photo is Fairy Nuff who lives in my cabinet most of the year and spreads her own kind of magic from her place on the tree at Christmas.  That's Christmas with a 'C'.