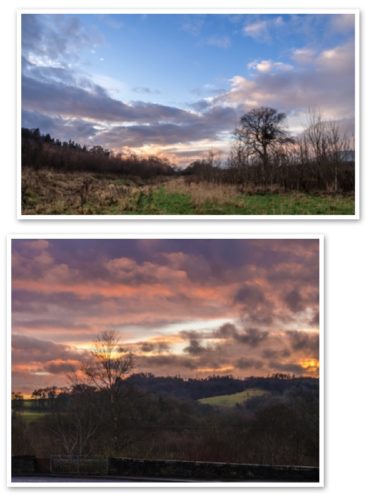 I've started a bad habit of allowing the blog to get away from me.  These last couple of days have seen me in the morning playing catch-up to get the blog posted, yesterday's blog that is.  Today I'm finishing today's blog today.
Not a lot of work done this morning.  Scamp was hard at work buying Tesco again and cooking all day for the Witches Christmas Party while I farted about.  There, that's the honest truth, well, almost the truth.  I did get my 2017 calendar sorted out, so that's one thing done.
I went for more 'messages' – you remember what messages are, don't you – after lunch and took Scamp's advice to carry ONE camera with me.  I chose the E-M5 with a short zoom lens and no EVF (Electronic View Finder).  Very pocketable.   I walked the short walk round the railway walk, across the tree plantation and back along the canal while the light changed from blue to a glorious orange gloaming.  Some beautiful lighting on the hills, but the short lens was struggling to make anything of it.  By comparison, the short focal length lens made the skies look good.
Since Tesco was now closed for restocking, after Scamp had bought everything it had, I went to Kilsyth to Lidl to get some odds and ends there and in B&M (my new favourite shop).  Bought far more than I intended to, so Scamp's enthusiasm must be catching.  When I got home and after dinner, I started on my part of tomorrows banquet.  Now, at 10.30pm I've done my bit too.  The pudding is setting in the fridge and the bread is proving in the kitchen.  Some more work to be done tomorrow, but less frantic I hope.
I'm intending giving the WCP a body swerve tomorrow.  I'm booked for coffee and a chat with Fred and Val tomorrow midday and after that, well as Del Boy said, "The world's my lobster".