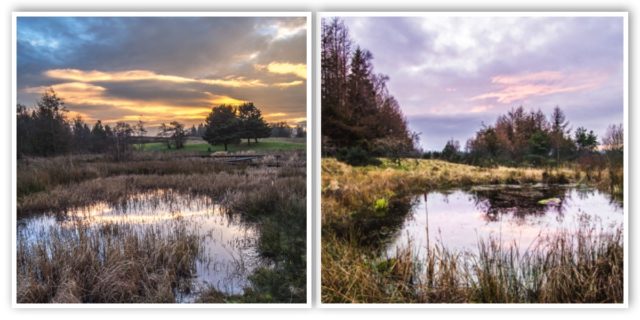 Didn't feel too good when I got up and so we didn't go to the pool for a swim as expected.  I blamed it on eating all the leftovers from Scamp's party.  I should know better, but I just had to have one more rum ball, even though they aren't truly round and had never been near a bottle of rum.  One day I may learn.
There was still a lot of things could have been doing, but I skilfully managed to sidestep them all.  It takes years of selfless dedication to achieve my high level of work avoidance.  I've learned from quite a few masters of the art in my working life and now I am benefitting from those years of study.  Finally got caught and put to work wrapping parcels.  With two of us on the task it didn't take that long and the boxes are now filled and ready to go to Santa.  Post strike permitting.
Had a quick waltz round St Mo's later, but had managed to miss the best of the light although there were a wide spectrum of colours in the sky, so that became my subject in the late afternoon light.  After that it was time to pick up Jackie from the station and go for tonight's dinner which was fish suppers all round.  Had to wait for the fish and the chips, but that meant they were very fresh and really lovely.  Didn't even suffer any after effects which shows how fresh they were.
Tomorrow?  It looks like rain and Scamp is going in to town to meet up with one of her friends for lunch and Jackie goes back up north.  I may paint for a time.