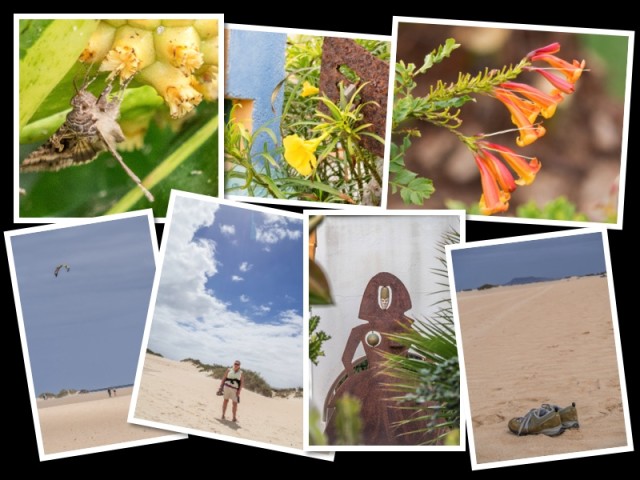 The sky was a bit more promising this morning, so after breakfast we went for a walk to the dunes again. Took some more photos of the strange house which apparently belongs to an architect, not an artist.  Every time we pass it, it seems there's more to see, just something we hadn't noticed the last time.  We walked right in to the dunes proper this time and watched the kite surfers for a while. Then, when we got brave, we paddled our wee tootsies in the Atlantic. Ooh it was freezing! I can now see why the kite boys and girls need those wetsuits. Took some more arty farty photos in the gloriously warm – no, HOT sunshine before heading back. On the way back I did spot a couple of folk skulking behind some of the prickly bushes, apparently in the bare buff, (a dangerous game to play!) so this end of the dunes might be a nudist beach after all.
We're sitting inside in the cozy wee bar at reception now drinking rum 'n' cokes and pretending it's the Canaries we're in, not a freezer.
Good weather forecast for tomorrow. We'll see.