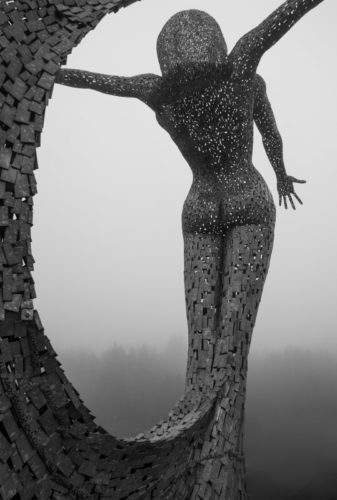 In Cumbersheugh.
Today we woke to thick fog. Sometimes a godsend in Cumbersheugh because it hides the drabness of the area. What it does mean is that it becomes even more of a challenge to get a decent photo for the 365. However, I had to go out to dump our last load of rubbish at the council tip and took my Olys with me. As I passed Arria on the M80, I knew that would be my PoD and it was. I like the statue, but don't like walking through a cemetery to get to it and a cemetery on a foggy day like today is even less enticing, but we have to face these challenges for our art!
Before the photography, I went to B&Q to get a cheap version of No More Nails. Which I needed to stick up a piece of wood to block some holes in a cupboard. Then I needed the piece of wood. Thankfully B&Q have now been thoughtful enough to leave a 'scratch & dent' bin just past the tills where you can pick up some odd bits of wood for a 'donation'. So much better than dumping them in landfill and generates a bit of cash for charity.
That was the extent of my outings for today. Printed off the few more calendars I needed and used the scanner in the printer for probably the second time in its life to copy these two images. They should give you a laugh. The photo booth shot is of Alex and I and the colour shot was taken in Newton Stewart about 1978!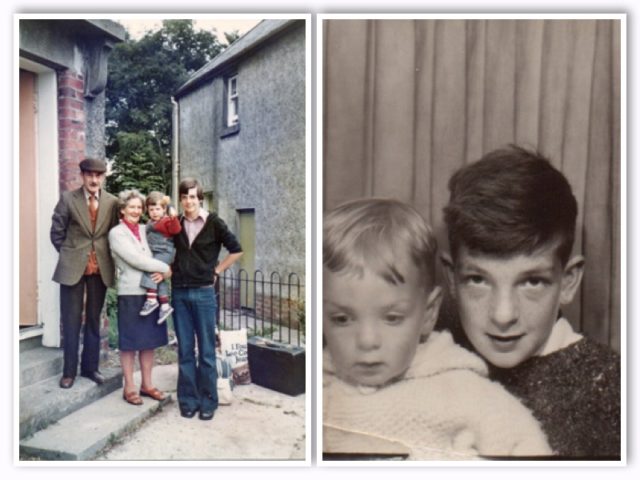 Tomorrow we get back to normal. Gems in the afternoon and Salsa at night, hopefully.