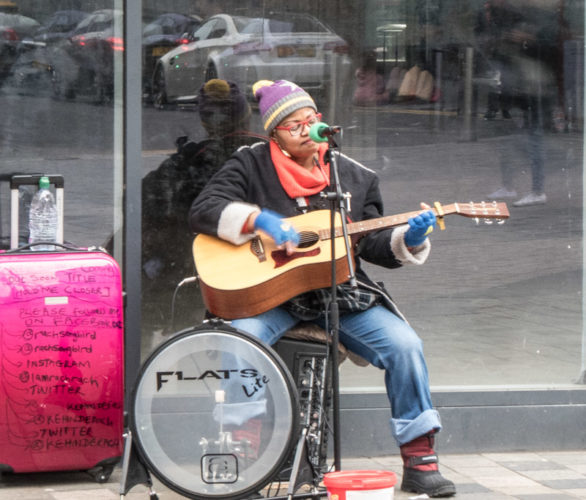 We drove in to Glasgow today, just to get out of Cumbersheugh, but we came back.
My hair badly needed cut. If I did it myself it would just be cut badly. If we went to Glasgow, it would be cut properly. No contest. For a change we parked up at Cowcaddens and for the umpteenth time, we didn't see even one cow. Why do they insist in giving places these confusing names. While Scamp wandered round the shops, I walked down to West Nile Street (which, it turned out, is not even near the Nile), sat down and had my locks cropped by a nice Polish lady. She did a very good job and I was happy to give her a tip. I told her not to visit Cowcaddens if she was at all interested in dairy farming.
Met Scamp back on Sauchiehall Street and we decided that lunch time was approaching so we headed down to Charcoals where I had Chicken Bhuna and Scamp had Aloo Saag. Mine was fine, but Scamp's Aloo (potatoes) were nearly black. We didn't pay that much for the lunch, so we couldn't really complain. £20 for two starters, two mains, rice, a naan bread and two drinks is a very small price to pay.
Walked back up to Sauchiehall Street for Scamp to visit some more shops while I wandered round Waterstones. After that we went for a coffee in Costa where we met an old salsa friend. We sat and talked for an hour or so, just catching up. It was really good to see her again, I think it must be about three years since we'd last spoken to Elsie. We both felt she seemed quite lonely, having finally broken up with her once boyfriend George, and I think we both felt quite sorry for her.
Drove home and I built a new boot disk for the old Raspberry Pi that Val gave me more than four years ago. Booted it up and it ran just the same as ever! Not got a lot of use for it because it doesn't have built-in WiFi or Bluetooth. It was just a wee challenge.
Watched the start of the new dance program on BBC. About ten minutes in, we both decided it was too dire to be bothered with and removed it from our recording schedule. Afterwards, we watched an episode of Marie Kondo's series on Netflix (yes Hazy, I did watch it.) Interesting, but "Oh my God" <sic> that repetitive and superfluous phrase from the american woman became really annoying. I might watch another episode, but maybe with the sound turned down or preferably off.
PoD was from Sauchiehall Street. The woman was singing Tracy Chapman songs while accompanying herself on guitar and drum. Very entertaining and it brought a bit of sunshine into a very dull day.
Broke a cap on one of my front teeth tonight.  That's what happens when you eat too many sticky caramels.  Luckily(?) I have an appointment with the dentist booked for a week on Monday.  Oh what fun!
Tomorrow? No plans as yet. Maybe taking Marie Kondo's advice and tackling another cupboard.