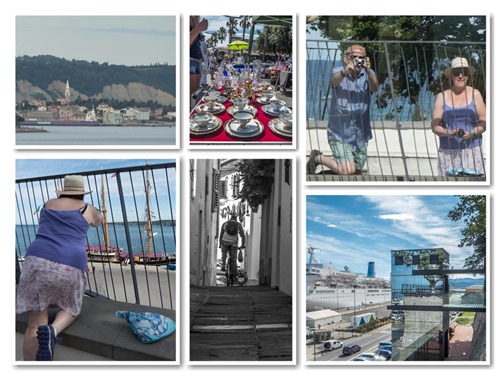 I was up at just before 6am and out to take some photos of our arrival into Koper.  It was a lovely sunny morning and with a few shots in the bag, I took a coffee and a 'white tea' back for Scamp.  Our day in Koper had begun.
We walked across the road and got even more photos from the top of the stairs that take you up to the town.  Of course we could have taken the elevator , but then we'd have cheated and we also wouldn't have seen the remarkable reflections in its mirror glass casing.  Scamp got up to high jinks, climbing up on the stone seating to get some shots of our ship.  We walked on through the market square and were impressed by the church and bell tower that dominated the space.  Did a quick sketch of just the lower part of the bell tower and the side of the church. From there we wandered through the archway into the old town.  Lots of little alleyways to explore and photograph.
Further on we came to the water again, at the other side of the old town of Koper and found a flea market that sold all sorts and ages of military 'antique' hardware.  Bayonets, machine gun magazines (empty) and helmets.  Every kind of helmet known to man (or woman).  German helmets, American helmets, a few British helmets, even fire fighters helmets and what looked like cavalry helmets!  Rusted, polished, repainted, and some that were just about holding together.  I'm guessing some of them, a very few were the real, genuine article, but most were fakes of one kind or another.  As well as all the military rubbish there were tea sets, teddies, toys, tapestries and telephones (the wind up kind).  Basically, anything and everything you could imagine and a few things that you wouldn't, like a boat propeller made into a lamp!
When we'd had our fill of the flea market, we crossed the road to a park and watched two clowns, one on stilts entertaining kids with juggling and balloon modelling.  Great fun, even though we hadn't a clue what was being said, the enjoyment that they were providing was obvious. We passed a ball shaped fountain and a tunnel framework providing cool misting spray. Found a fruit and fish market and had to have a look.  Such a selection.
We walked back and had a beer in an old courtyard then listened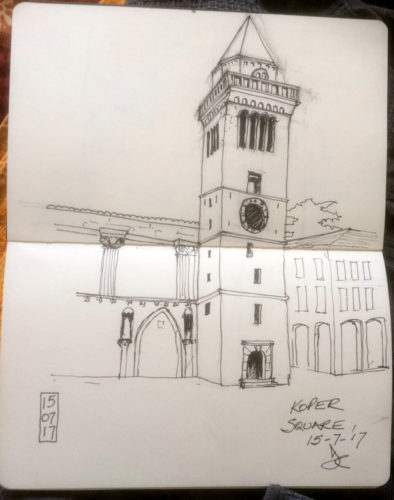 to a bloke with a guitar doing a very good rendition of 'Comfortably Numb' by Pink Floyd.  Had to give him a couple of Euros for that. On the way back, I begged 30mins to sketch the old church again.  This one is a bit neat and tidy, because it was done in pencil first then inked in.  I'm not sure I like the ability to change things, but I wish I could have changed the clock face to make it look like it really was, not black.  I was sitting close to a German couple's bikes and they seemed a bit twitchy thinking I might nick them.  I wouldn't have, but I might have nicked their trip computer! We walked back to the ship.
About 5pm we went back for another walk, because it was a late sail away again.  Found that where the flea market had been there was now a free concert being set up with loads of food stalls.  Must be to celebrate Glasgow Fair which is this weekend.  Had a lovely, but expensive G&T in a posh bar in the market square and went for what must the the worst dinner in our cruising history.  The company was good, but the food was exceptionally bad.  Not nasty bad, just couldn't care less bad.  Now, we admit we are foodies, but I wouldn't have served food like this at home.
Went on deck and watched the comings and goings round the streets.  Across the road was a carpark and it was full, but at least a dozen cars tried at different times and in different combinations to find a space.  Some employed clever tactics to wait for a space, some were just stupid.  Some made it.  Most didn't and went to try their luck elsewhere.  It was an entertainment.
Funniest thing of the day was the story the obnoxious Australian bloke told at breakfast about how Nicola Sturgeon earned her nickname of Gnasher.  I won't repeat it in mixed company – he did!  He even told it in front of his mum! I certainly wouldn't write it down, for fear of being sued, but I'll never see Nick the Chick in the same light again!
Pula Tomorrow.