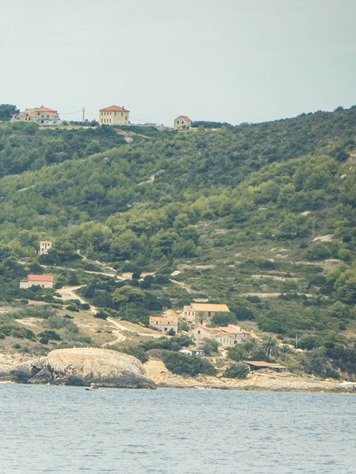 Today was a sea day.  Nothing much happens on a sea day.  Sometimes there are interesting talks to go to or hobby classes, but generally it's a smash 'n' grab to get a sunbed.  Today was much like all the rest.
Sunbeds were all taken early on the sunny side of the ship and there were very few on the shady side too.  We finally found a couple together with a bit of a view out to sea.  The were a couple sitting next to us, but they folded down their sunbed and headed off for elevenses.  They were hardly gone 30 minutes when some pompous wee bastard and his girlfriend came along shouting the odds about the sunbeds having been left unattended for over two hours and then headed off to see the captain, or possibly the owner of Thomson to have the beds cleared so he could have them.  I think he heard the comment "Dickhead" coming from a Scottish person nearby  I tried to make sure it was loud enough to sink into his thick english skull.  He came back with a waiter, apparently neither the captain or Mr Thomson were available to listen to his rant and proceeded to turf the towels and books from the bed.  The Scottish person changed his estimation to "Dobber".  We headed for an early lunch, but before we went, I photographed our beds with my phone to make sure they weren't tampered with and the evidence of our departure time would be the date stamped photo.  When we got back, another couple had replaced Mr D and friend.  The woman claimed to be his mother.  Why anyone would lay claim to that, I do not know.  Don't know what the masquerade was about.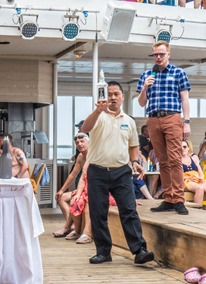 The rest of the day was a joyous whirl of eating snoozing and blog writing.  Too soon it was time for the Captain's Reception and Gala Dinner (in Capitals).  It was a dressed up do.  Kilt, black tie, knee length sox, brogues etc.  Scamp too was in her posh dress.  We had to wait in three queues for photos before we got to the captain, had two photos taken with him, then another photo of just us, before we got to go for the reception.  The captain's speech was very good.  Funny and concise which makes it the shortest and best one we've ever been to.  Dinner was nothing very special.
Afterwards we danced a couple of times to a singing group and watched the cheesiest, slimiest, probably drunkest dancer ever. I'm sure he left a slimy trail behind him!  I have a video.  We finished off the night 'bad dad dancing'.  I do NOT have a video.
Late, late to bed, too late.  Koper tomorrow.  Hope the weather is better than today.  It was a bit dull after a good morning.
This post was brought to you by Koper Wi-Free.