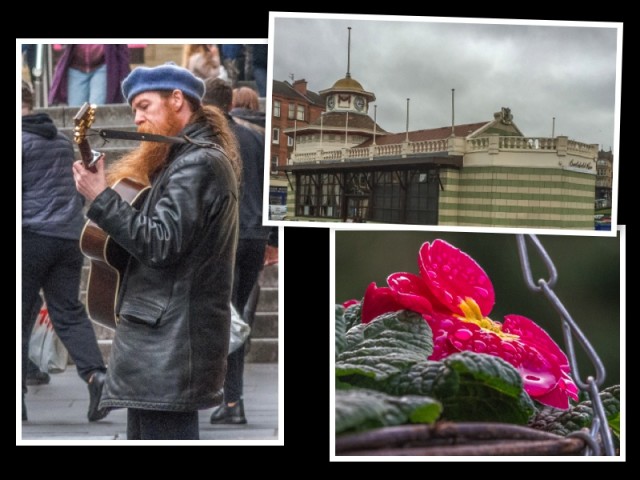 Today is Scamp's birthday and we headed in to town to celebrate.  Lunch was booked for 1.30pm in the Battlefield Rest in Battlefield, where else.  At 2.05 after 35 minutes waiting, we had still not had our starters and were getting a bit fractious.  Thankfully it wasn't much later when Scamp's Smoked Haddock and Spinach Crepe and my Haggis Polpette arrived and as anticipated, they were lovely!  Mains followed soon after the first plates were cleared away.  Scamp's was Smoked Haddock Risotto, mine was Italian Sausage Stew.  If it was possible for the starters to be bettered, the mains did it.  We more or less forgave them the bad start.  Coffees were on the house when Scamp revealed that it was her birthday.  Overall, it was what we expected in the Battlefield Rest.  If you're in a hurry, it's not the place to eat, but the food is very, very good.
Stopped off in Glasgow City Centre on the way home and in the course of wandering around the shops, managed a few shots of the bloke with the beard playing the guitar.  That was about it.
When we got home I saw the raindrops on the flowers in the hanging basket and thought it might make an interesting shot.  Today we had the first rain in 14 days.  This must be a record in Scotland.
It's been a good day today.  Let's hope it's a Good Friday tomorrow.