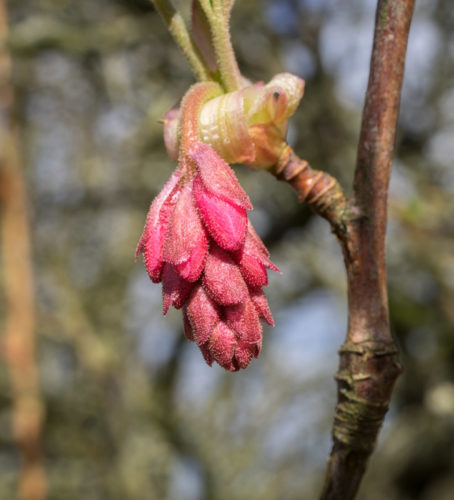 Sunshine from early and we both decided to make the best of it.
Scamp wanted to get some pansies to fill up her flower tubs and I volunteered to go look for some. Found some at B&Q. The place was quite busy considering the present circumstances. Took the long way home via Tesco to see what was for sale. Hoping for some pasta, but the only thing available on that aisle was Tagliatelle and I know that Scamp doesn't like that. It wasn't actually on the shelf, it was still in its box with the top ripped off, sitting in one of the rolling cages the shelf stackers push along (according to Scamp the cages are called "Yorkies"). So someone just tore of the top and helped themselves. The next step will be raiding the warehouse and if they can't find what they want there, ambushing the artic wagons when they try to unload. I kid you not!
When I got back there was an email waiting for me to tell me that my coffee would be delivered around 3pm. That gave us the opportunity to go for a walk. We walked around St Mo's pond and then went to Condorrat with the possibility of getting a cake in the Spar shop. However we went in vain because there were no cakes that interested Scamp. She did, however get some potatoes then announced she had no money! Luckily I had. While we were in St Mo's I got PoD which I think is a flowering currant, Ribes sanguineum.
We walked home and had lunch, then Scamp thought she'd go out and edge the grass in the front garden and maybe tidy up the pots. I thought about helping out, but only thought about it. Postman brought a big box addressed to Scamp in Hazy's writing style, then the DPD man brought my coffee and tea. With nothing else to do but play games on my phone I put on my big jacket because the sun was getting lower and the wind was cold now and went back to St Mo's to do a solo circuit of the pond, but got no photos. Eventually I settled for some low shots of the crocuses in the front garden. Another of Scamp's brilliant ideas a couple of years ago was to plant crocus bulbs in the grass of the front garden. They certainly do brighten up the grass, and after the flowers disappear, it will be time to cut the grass anyway and allow the plants to die back until next year, hopefully.
So, not only have they closed all the UK schools from Friday, but they have also cancelled all exams because of the virus. John Swinney the Scottish Education minister sought to explain how certification would work and managed to fit in his two buzz words "Robust" and "Rigorous" four or five times in his statement. He has yet to explain what they mean in this context. Pupils will be graded on coursework, teacher assessment and prior grades and of course it will be Robust and Rigorous. I feel sorry for those pupils who will not get the opportunity to sit their exams.  It is the first time the exams have been cancelled since the system was put in place in 1888.
Tomorrow it looks like a cold start but a bright day. We'll take that. We may go for another walk, while we are still allowed out.