Apparently today was the Spring Equinox, something about the sun crossing the equator.
I don't know if the sun was actually crossing the equator today, but we definitely saw if for a lot of the afternoon. We'd decided to go for a walk again today.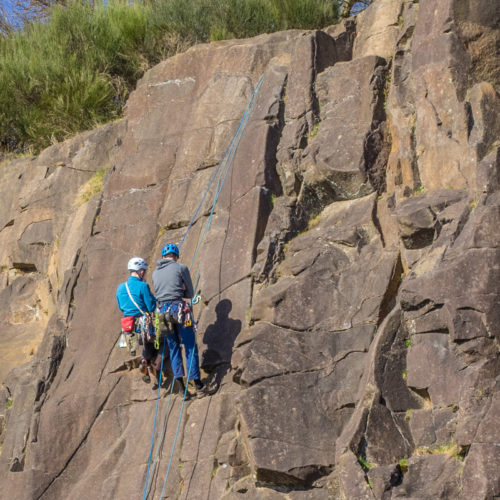 A much longer walk than yesterday, about 5 miles according to my Fitbit. We were walking along the Forth & Clyde Canal from Auchinstarry Quarry to Twechar and back. Before we left Auchinstarry I grabbed a shot of two roped up rock climbers having a wee discussion of the best way to climb the rock. One in the bag.We started out on our walk with the big Bergy coats on, Scarves, Wooly Hats and Scamp even had her gloves on. I was a rock cake and kept my gloves and my hands in my jacket pockets. Halfway along the canal, the jackets were zipped down, then the scarves, gloves and wooly bunnets were pocketed away and we began to feel the heat of the sun. We some folk who had gone further and were wearing shorts, but that's just taking things too far. It might be that Spring is just around the corner, but that was a cold wind blowing from the east. One step at a time.
When we turned at Twechar and headed face forward into that eastern breeze, the bunnets were back on and the jackets were zipped up again. Got today's PoD just outside Twechar as an eight shot panorama created in Lightroom, then cleaned up in ON1 2019. Quite pleased with it, it showed what the light was like today. We passed a few hardy folk out walking and cycling, and even a few jogging. All of them keeping the approved 2m distance from us, just to be sure.
On the way back to the car we discussed food options for the next few days and decided another visit to the butchers was in order. With that in mind we drove to Muirhead and then split up. Scamp to check out the Co-op and me to get some meat and fish it there was any fish. There was a queue outside the butchers, and I groaned. It was Friday and it's usually busy on Fridays, but actually this was a H&S queue, all to do with Covid 19. People were asked to wait outside and were called into the shop to reduce the risk of cross contamination. Once in I had to sanitise my hands with an alcohol gel. Perfectly sensible really in these strange days. I was looking for some more Thai Chicken Stir-Fry, but there were no chickens from any geographical location in a stir-fry sauce. Got some beef stir-fry instead. Also got some fish for Scamp and best of all, two bags of pasta. No pasta in Tesco, nor as it turned out in the Co-op, but there was some in the butchers! Strange days indeed. When we got back home, the girl next door, Angela's daughter Lucy, came out to say that she was giving her mum a lift to her work in Asda in the mornings and if we needed anything, just to give her a list. I thought that was very kind of her and told her so. I also said that although we were fine at the moment, I'd keep her offer in mind.
With that, our exercise for the day was done. Lunch was (Just) soup and a late supper was a pizza.
The big Covid 19 announcement of the day, apart from having to queue outside the butchers and then use hand sanitiser, was that all clubs, pubs and restaurants would be closed from tonight until the foreseeable future. That also made sense to me and was entirely predictable.
Tomorrow we may go for a walk again in a different place and a different direction, no doubt. Where is not yet decided, but we will be taking a flask and 'pieces'.