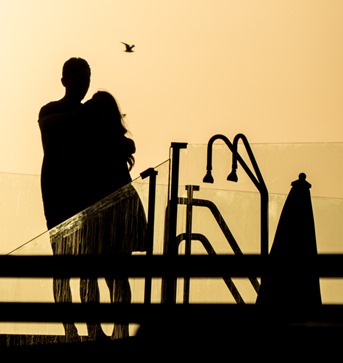 The Mojito is based on white rum, the Barraquito has Liquor 43 and the Flamenco is fiery enough without the alcohol.
We both slept better last night.  More relaxed and that may or may not be due to the amount of gin in the tonic, but I cannot comment.  Anyway, we went for breakfast, then headed to level 5 to rest and allow the breakfast to settle before we went anywhere.  We both rested for quite some time to because we both had good books to read and the weather was conducive to relaxation, being around the 23c mark.
When we were fully rested we went to investigate the local market.  With the exception of a few Tissot and Breitling watches for fifteen quid each, there wasn't much to mark it as special, so after wandering around the stalls and seeing nothing that really interested us, we headed back to the hotel to have lunch.  The big surprise at lunch was the wee cakes, in particular, the Cannoli.  For the uninitiated, cannoli are small crunchy pastry rolls squirted full of cream.  Lovely and very rare outside of Italy.  Here they were on the Tortas table at lunch.  I had one, Scamp had two, but who's counting cannoli.
After the cannoli and lunch in general, we went for a walk in search of Mojitos.  We walked in the general direction of Los Cristianos and along the way we found a cafe selling 'The Best Mojitos'  We simply had to investigate the claim.  Now, I'm not sure they were the best, but they came close.
While we were analysing the Mojitos, Scamp was watching a lady sitting on the esplanade, apparently chopping up tee shirts and selling the chopped up articles.  I could see that her interest was piqued, so while I paid for the very good Mojitos, she went to see what the final cost of the tee shirt chopping was.  It turned out that the lady tie-dyed the tee shirts herself and sold them for the princely (or should that be princess-ly) sum of five Euros.  Yes, that was FIVE.  There are still bargains to be had if you just look.  Even better than the price, we watched her chop up a tee shirt for Scamp and the finished article could be bought in most high-street stores of a lot more than £5.  So, cheered up by a mojito and a bargain, we made our way home, and that was when I realised that the mojitos, while good, were not the best.  You see, we could walk home.  That would pose a problem with a REALLY good mojito inside you.  Then you stagger home.  We did that two years ago after a mojito each in Los Christianos.  The search for the Best Mojito continues!
When we got back to Fanabe which is the name for the area we are staying in, I suggested we might go for a coffee.  My ulterior motive was to see if The Pantry still sold the lethal Barraquito.  It did and that is what I had while Scamp had a simple white coffee.  A Barraquito is condensed milk, topped with espresso, which is topped with Liquor 43, which is topped with steamed milk.  This multi-layered drink is served in a short glass and after the barista's skill in making it, you stir all the layers and drink it in one or two gulps.  Delicious.  Success, they still sold Barraquitos.  That would suffice for my alcohol content for a while.  When we got to the hotel, we went up to the roof to relax and that's where today's PoD came from.  I just glanced up and there they were silhouetted in the sunset.  Just a grab shot, but it worked.
After dinner we went to see what the singer was like.  Last night's was awful.  Tonight's was simply uninteresting.  We went to watch Kiddies Club and Scamp got involved singing the kids songs while we tried to play Rummikub!  The main entertainment was a bloke playing violin and a flamenco dancer.  She was good.  He was good, but they were nowhere near as entertaining as last night's combo.
Tomorrow we may go looking again for the ultimate Mojito!  Maybe on the wee train!