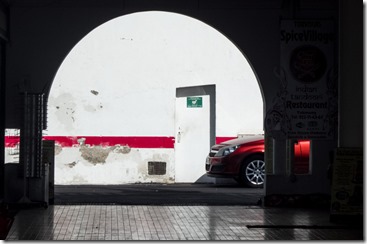 After breakfast we went up on the roof to relax and soak up some rays.
We'd only intended staying for an hour or so, then we realised we'd missed the 11am Wee Train and the next one wasn't for an hour, so we might as well have another beer and read a few more chapters in our books. That's the speed that life runs at here.
At 11.45 we were ready and waiting for the train and it arrived promptly just before 12 noon. It was €9 each for the round trip of 1 hour. We'd actually intended getting off half way round, but agreed that we would hang the expense and go for the round trip. It was worth it to endure the bumps and wobbles over the cobbles as we made our way out to Port Colon <Snigger!> and then back. We saw lots of bits we'd seen last time and a few that we hadn't. The trip took us round the 'Sky Park' sort of amusement park that didn't look as if it had had any visitors since we last saw it two years ago. Lots of new buildings going up everywhere.
When we got back to the hotel, we walked down to the Blue Cactus pizza place we'd gone to two years ago. The pizzas were just as big as last time, but the base had a mass-produced feel to it and there was far too much cheese (not Mozzarella). Quantity without the quality. Because of a misunderstanding we ended up with a jug of sangria, not the glass, Scamp wanted. We weren't all that worried. We managed to put it away!
Walked home and after a rest, went for a swim, then went back up top to warm up, because the sunbeds below were in shade by this time.
After dinner we watched the kids show with the strange palm tree, Gofi (?), the mascot of the kids club. After that it was a less-than-brilliant Queen tribute band.
Then bed. A long day, but an enjoyable one.
PoD is called Red Stripe, for obvious reasons.
Tomorrow, more of the same, hopefully.