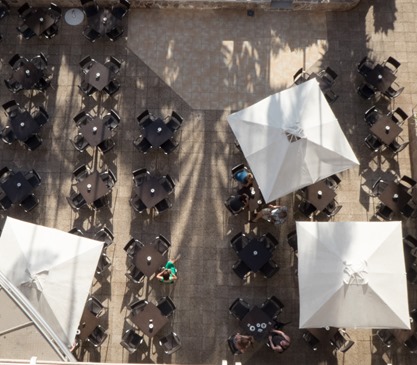 Woke after a noisy night to sunshine.
The noise was just normal traffic noise and also a bin lorry reversing into the hotel at 3.30am! I was annoyed, but think of the poor driver of the bin lorry who was probably halfway through is shift by 3.30am. Almost as bad as the drivers who were running nose to tail into Embra at 7.30am yesterday morning. We should be thankful for small mercies.
Today was a much, much more relaxed sort of day. After breakfast we went to investigate the top floor, ie roof of the hotel. That is where the sunbathing area is. There's also a nudist part, carefully screened off from the punters so as not to frighten the horses, or those of a nervous disposition. We didn't go in, just in case you're wondering. No, we spent our morning simply soaking up the scenery and the sun from floor 5. That's where today's PoD came from. When we felt we had made the most of that, we went for a walk along the front in the opposite direction to yesterday. Walking right instead of left took us in the direction of the really, and I mean REALLY posh hotels. Brought back memories of a great lunch followed by an expensive G&T the last time we were here.
Later we went for lunch in our own hotel. It was meant to be a fairly light lunch, so I started with cold meat and salad. However, Scamp's half a roast chicken was too much of a temptation, so I went for that as my main course with brussel sprouts. Yes, I realise that's a Christmas thing, but there is a Christmas tree up in Reception, so it's fair. We rested for a while before going for a swim in the heated pool. I don't know how 'heated' it is, but it's much more comfortable than the cold plunge pools up on level 5.
When the sun went down behind the apartment blocks that surround the pool, we headed back up the level 5 to grab some more sun to help us dry off. Snoozed for a while there and then it was time to get ready for dinner. It really is a merry-go-round of eating in these hotels! On the way back to the room we found two lost ladies. Russian? Polish? Danish? Dutch? We didn't find out, but I took them to reception, because that was where they wanted to go. This hotel is a bit of a maze.
After dinner, which for me WAS a light dinner, just a salad and a lovely vegetarian stew, we went for a walk down to the esplanade. After that we listened for a while to a truly awful singer and then gave up and went to watch the Alma Show which turned out to be the best show we've seen in ages. It was part drag show and part dance show. All done in the best possible taste. Really excellent entertainment.
Now I'm sitting on the balcony writing this blog in total darkness! So goodnight!