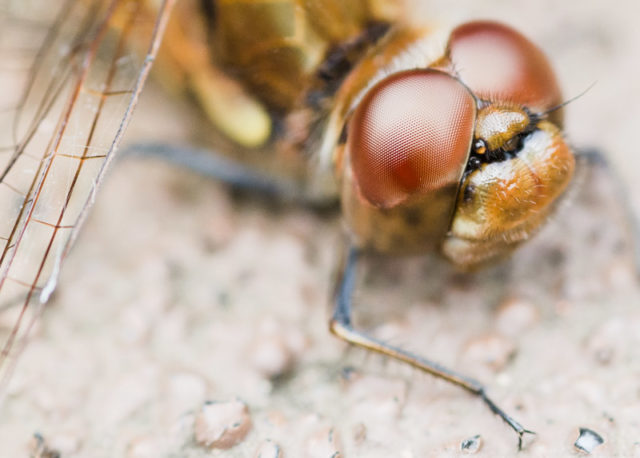 Yesterday I took 856 photos, most of them out of focus or just rubbish. Today I hoped for much less.
Lazy start to the day where I turned over after reading another couple of chapters of Record of a Spaceborn Few. "Nearly there," I keep telling myself, "Nearly there." Some books are like that. Usually the second book in a trilogy. This is the third book in what might be a trilogy, or it might not … It's a trilogy for me!
Finally dragged myself up into a vertical position about 11am and ventured downstairs for a second look at yesterday's airies. (Fixed the spellchecker problem last night, so no more 'fairies'!).
After lunch I took my tired old D7000, the 'big dog', over to St Mo's to look for beasties. Found some dragonflies, not DeHavilland Dragonflies, but real ones and managed to get a fairly good, clear macro of the head of one of these scary beasties. I rightly judged that it would be my PoD. Lots of other little beasties feasting on blue Scabious flowers, but none as close-up as the dragon's head.
Back home and changed to go to Salsa in Paisley. Enjoyed the night where leaders outnumbered followers in a ratio of about 2:1. So strange. So, not many Old Firm supporters among our salsa crew then? Back home it was home made chilli for me and veg fried rice for Scamp. Sat with dinner on our laps and watched Vettel put himself out of the race with a charge into Hamilton. I like neither of them, but Vettel is probably the worst driver of the two and the most petulant. Anyway, it made for a slightly more interesting race than normal, which is a change.
Tomorrow I'm taking Shona to Glasgow for her pre-op. Other than that, it's a free day. If it's dry I may do some sketching. More photos from yesterday are now on Flickr.