A 365 is sometimes a pain and sometimes a pleasure. Sometimes it contrives to be both. I enjoy the regime of having to take a photo every day. Recently I've been reading a book
"Daily Painting: Small and Often …" by Carol Marine. Her idea is that you should try to paint a small painting every day – much like a 365. I don't think I could tie myself to the one-a-day routine, but certainly one a week is do-able. and I'm happy to try it in the coming weeks. I used to find that on days when I couldn't paint, I could write code – just BASIC mainly, but occasionally assembly language for the old Z80 chip. Similarly, on days when my coding became heavy, my painting improved. I think it's to do with left and right sides of the brain. One side is supposed to control the analytical skills and the other the creative and artistic abilities. It seemed to work for me and now I'm beginning to think that way again. Photography is not Art. Let's not kid ourselves, photography is 99% technology now. With programs like Lightroom, Aperture and Photoshop, there's very little creativity. You only have to look at some of the crap on Flickr, 500px and similar image promoting websites – I'm not even going to suggest you look at Facebook or Instagram! – to see what I'm talking about. So… I'm going to try to produce one painting per week. It may appear here or it may not. It depend on whether I like it or if it is a Learning Experience.
Today I went to Decathlon at Braehead to spend the last of my gift voucher. It's taken me a long time because there was a lot of money there and I didn't want to squander it on just anything. I'm taking longer and longer to think about these things now. I intended to buy, amongst other things a saddle bag for my bike. The bag I chose was priced at £7.95. When I went to the checkout, the assistant told me it was £9.95. I told her it was priced at £7.95 on the rack. She got another assistant to check the price. He came back and checked it on a computer and confirmed that it was £9.95. When I asked him to show me where he got that price on the rack, he couldn't. None of the codes on the prices matched with the item. I asked him how I could tell what price it was and he admitted I couldn't tell. It had to be checked at the till or on computer. This seems a really stupid way to run a business. I can now understand why Decathlon at The Fort had to close. It also explains why people wander round this store looking bemused. I don't think I'll be back in the store, I'll go somewhere sensible like Halfords or Evans, but think about this idea. Put prices on things. I know it takes away the mystery, but it makes buying things much easier.
Scamp had asked me to get some handmade chocolates on the way home as a present for a workmate's 25th wedding anniversary. This means that I also have to buy Scamp some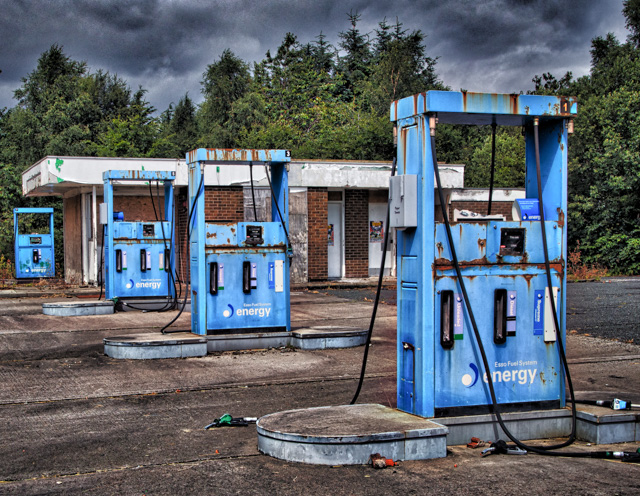 really good ice-cream and Edinburgh Rock for myself! On the way to the shop in Muirhead, I stopped to take a photo of these petrol pumps in a disused petrol station. I've passed them many times and always meant to take a photo. Today I got them, because if I didn't, one day I'd pass and see the bulldozers flattening them and the photo would be gone. One of my mantras is :
Take the Photo then make adjustments.
Today I took the photo.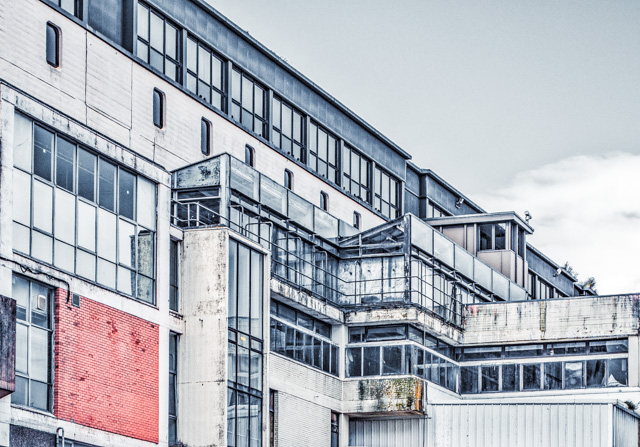 Later in the afternoon I was at the architecturally challenged Cumbernauld Town Centre also known as Castle Greyskull. It's a dreary place that really needs to be torn down and started again, but all they seem to do is add bits to it and shore up the bits that are falling down. It makes a good subject for an HDR grunge photo.
Take the Photo