Started a painting, a watercolour on Fred's watercolour paper. Wasn't at all happy with the results, so gave it a coat of gesso and left it to dry. I'll maybe try watercolour on the gesso next week when it's dry. Gave up painting and started to pack away the easel in preparation for the visitors.
So, I forgot my notebook and the pencil, but I did get my TGS key back when we went to the gym. Tried to plug it in to the computer at the start of the session, but the screen showed MS Windows. Borked! Oh, oh. This doesn't look good. Tried it in the first machine I came to and got the message "The Key is Empty". Ok, time to go to speak to the liar assistant at reception.
Me – "When I put my key in any machine it says 'key empty'"
Assistant – "Oh"
Me – "So what do I do?"
Assistant – "It says 'key empty'"?
Me – "That's what I said."
Assistant – "Oh. Let me check with ****"
Assistant returns – "There was a note with your key that ….." It sort of fades out there.
Me – "So what do I do?"
Assistant – "It will say 'key empty' because you didn't check in and you can't check in because the computer's not working"
Me – "How long has it been broken?"
Assistant – "Dunno. Quite a while."
Me – "When will it be fixed?"
Assistant "Dunno."
Do you get the impression that this is not the most interesting, intellectually stimulating, or productive of conversations? Do you also get the impression, as I did, that he doesn't care? I left it there and went back to the gym, where Scamp had also not logged in but whose key was working properly in all the machines. It is all recorded and will be played back for the benefit of the manager of Q Hotels. The 'Q' is for Questionable Quality, I believe. Since the computer has a touch screen and a virtual keyboard, I was tempted to use these facilities to format the C:\ drive, but I didn't. Not this time….
Had thought about going cycling, but the rain that had appeared put paid to that idea. Spent the rest of the afternoon completing the tidying up of the back bedroom for our visitors to be able to at least put the bed down. Then Scamp decided to pick the blackcurrants that are overburdening the bush. Managed to get about 700g of fruit which isn't bad. The smell of the blackcurrants took me back to Kirkmuirhill and my aunt Jean's small holding during the summer holidays. Isn't it strange how smells transport us. Raspberries always take me to Ormiston and my Uncle Bob's fruit garden.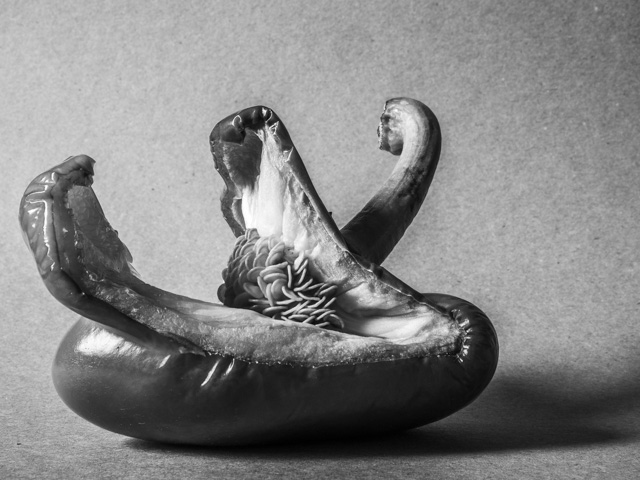 Took some time out from tidying and fruit picking to photograph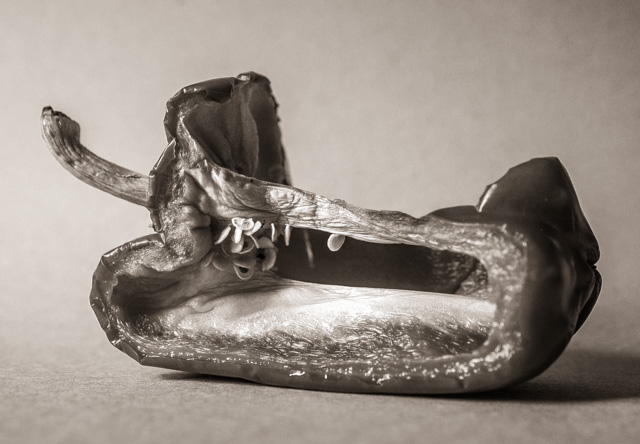 some peppers that were destined for the compost bin. The colour versions didn't look that good, so I reduced them to mono and then sepia toned one. Quite impressed with the results.
Drove in to Glasgow Airport at night to pick up JIC and Sim. Lovely night after a very changeable day.