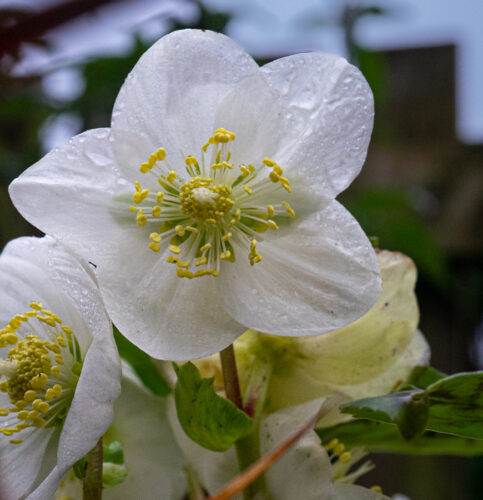 Another day with almost no daylight.
It becomes tedious. Day after day with no directional light. On Friday I drove to Fife and spent half an hour there in glorious sunshine. I might have to head east again to get another dose of vitamin D. Today was so dull, I swear the sun didn't rise above the ground at all.
Scamp drove away to meet her big sister for a coffee. She told me she was going to take the long way round to the town centre, just to give the Wee Red Car a good chance to fully charge its battery and basically get everything moving again. It seemed to work, because when she came back she was smiling. It's good to be independent and not rely on others. I'm just glad the battery held its charge, but I think it's just the cold weather and Scamp not being able to drive for a month that allowed the battery to discharge. Or it could be that the wee car is getting fed up with all those dull cloudy days too.
While she was out, I started the tidying up of the back bedroom. It's going to take more than a morning's work to get it back in business, but today was a start. The sofa is almost cleared and the table too. I chopped up that enormous packing box from last week. We eventually found we could do without it. There are a couple of fairly large expanses of corrugated card that might hold a coat of gesso and fit on a drawing board, so I could paint on them. The rest of them will go into the paper shredder at the skips. If I get things sorted I can maybe get my sewing machine out and take up the second pair of lined walking trousers. Maybe!
When Scamp returned she brought me a bottle of gin, a present from June. A birthday present for my 70th last year! Typical June. When she says she's going to do something, she does it. Maybe not right away, but it's there in her head and she is a determined lady when she puts her mind to it. Scamp even sang Happy Birthday to me from June. What a lovely surprise.
We'd a lot going on today. Your parcel was picked up right when DPD said it would be and it's now winging its way to you, pair, Hazy and Neil. The lady who does the Covid survey was coming in the afternoon to take samples and ask us questions. A mysterious parcel was dropped at the door by the Amazon man, but now it's disappeared! With all that going on and with the lack of light, I'd no real opportunity to get out for a walk and some photos. Instead, I got the Benbo tripod out of the car and took some photos in the garden. That way I could use as slow a shutter speed as I wanted to get the low ISO number that would ensure I didn't have 'grain the size of golf balls' as we used to say back it the 'wet film' days. The best one, and PoD, was a low level shot of a Christmas rose, one of Scamp's favourites called Christmas Carol. There are others too on Flickr.
I toasted June with a G 'n' T tonight and Scamp had a glass of wine. Well, it may be dull, but it's nearly Christmas.
Tomorrow we may go out somewhere for a walk or maybe a stroll round Glasgow.