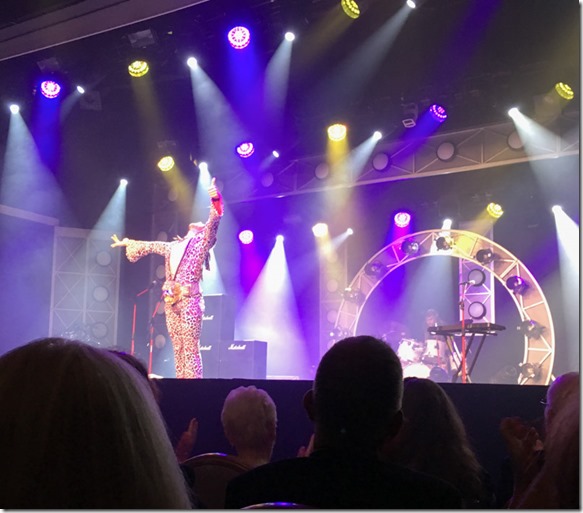 There's not a lot you can write about sea days other than you are at sea for a whole day.
It started off with some sun and a bit of haze on the horizon, but soon that sun was disappearing and the clouds were rolling in. One of the benefits of being on a P&O ship is the variety of things to do on a sea day. Today after breakfast I took a trip to Metropolis on Deck 18 for the Art class while Scamp went to the line dancing class. Today we were painting penguins. A strange subject given our position just off the south of Spain. As the last class, Easa had provided us with a wee photo of the subject. A mummy and baby penguin. After we sketched it, he took us through the process of painting it. I believe that each subject concentrates on a particular skill. Today's was mixing a black. It's fairly simple if you know your colour wheel and is usually a blue and a brown. That's what he recommended and that's what I used. Unfortunately, there were too many diddies in the class who couldn't find the blue and then couldn't find the brown, so a lot of time was wasted. As a result, the class over-ran and I had a salsa class to go to at 11am and had to give my apologies and make a run for it.
Salsa was a fun class. Great fun. The leader is as gay as a gay thing and is constantly encouraging everyone to "Get your hips moving." It's pretty basic stuff for us, but at least we get a chance to dance afterwards when everyone gets a bit of 'practise time'. After lunch we sat and listened to frau Sturmbahnfuhrer screaming at the poor people whose only fault in life was a desire to learn Cha – Cha. We couldn't help but compare and contrast our teacher with this demon. One making dancing fun, one making it a drudge and a competition.
Outside things were looking grim. Grey cloud and a very slight wind that wasn't going to shift them very much. Never mind, there were things to do. There were brides to ooh and ahh at and lots of rubbish oops, bargains to be bought. Also, tonight was a Gala Captain's Reception. We'd no intention of going to meet the captain who is apparently on the short leet for the most boring speaker on P&O. However, it was a chance to wear my kilt and cause a stir. As it happened, one of the people at our table was from Aberdeen. Maybe it was a long time ago, but at least he was Scottish and the accent was there. Like a lot of folk, the more we spoke to him, the stronger the accent became. Pleasant enough crowd. One woman was from the afternoon art class. She talked about going on P&O in the '60s when there was a severe demarcation between First class and Second class passengers accommodation. It still exists. There is an area cordoned off at the front of the ship for those who are willing to pay the subsidy. They have better sunbeds, their own pool and sauna. They don't tell you that in their fancy brochure.
Tonight's show was the best we've seen by far. Brilliantly staged with a 'roadie' entertaining the crowd at the start. Then, near the end the lights went out and a message came over the system saying that there were technical difficulties and the program would proceed as soon as possible. After the spoof at the start, everyone thought this was just another joke. It wasn't. Some folk left, but we waited for the finale. I think they sang every rock anthem that was written. Silly wee story, but nobody noticed because the production was so slick apart from that one problem.
That was it for the day at sea. Sat and finished my painting of the penguins and went to bed.