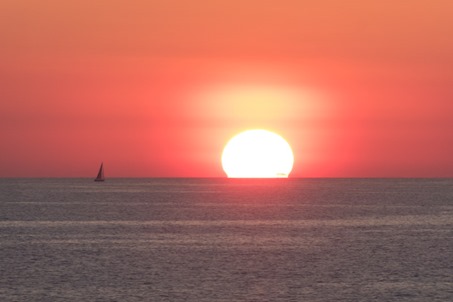 Today we had posh dinner booked in Epicurean.
Art class in the morning, and as we were at sea today, we were painting a rose.  The view from the room on deck 18 showed only sea and sun.  Unfortunately the sun disappeared about an hour after we started.  It might have disappeared before that, but I was concentrating so much on the rose and the teacher's method of painting the petals, I didn't notice anything around me.  The class swot's voice droned on, but I managed to tune it out.  That's a skill Scamp has that I covet!  The method for the red rose was, working petal by petal: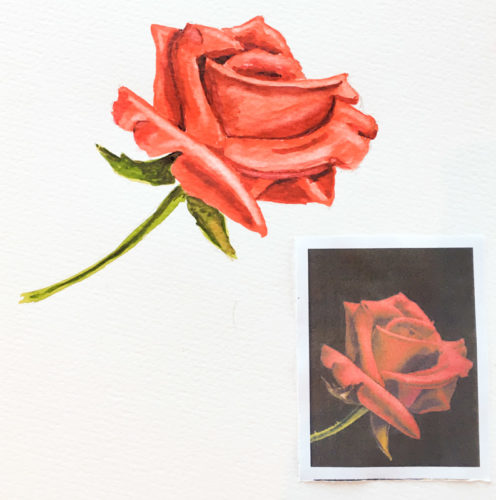 Paint on a strong wash of Cadmium Red.

Using a damp brush, remove any highlights while the red wash is still wet.

Allow the wash to dry slightly then add the shadow areas using Alizarin Crimson.

Continue using this method until all the petals are done.

With a damp brush blend the shadows were necessary.

Mix a dark using Alizarin Crimson and Intense Blue and paint in the small areas of deep shadow.
With the rose successfully painted I had just enough time to catch the end of Scamp's line dance and got a short video of it for reference later.  HER reference, not mine, I hasten to add.
After lunch we swam in the covered pool, because the sun wasn't quite getting through the cloud cover.  Lounged in the jacuzzi for a while too and my leg felt better.  By the time we were finished, the sun was back in control.
We had booked a dinner in Epicurean and it was just as good as the last time, two years ago.  We both had Lobster Thermidore as a main after Scamp's starter of Trio of Tomatoes and mine of Two Types of Smoked Salmon.  Pudding for Scamp was a White Chocolate Sphere with Popcorn served with Creme Brulee.  I had Banana and Peanut Canneloni.  Coffee and truffles to finish.  Amuse Bouche at the start and end Start was Mexican Surprise which was baby tomato on a bed of white guacamole.  At the end it was a delicious deconstructed G&T.  Everything was photographed, of course.  That was menu 2.  We immediately booked for next week to get a taste of menu 1.  We also went straight to Sindu to book a night there too.  Food?  It's what we do!
Watched the sun go down over the sea!