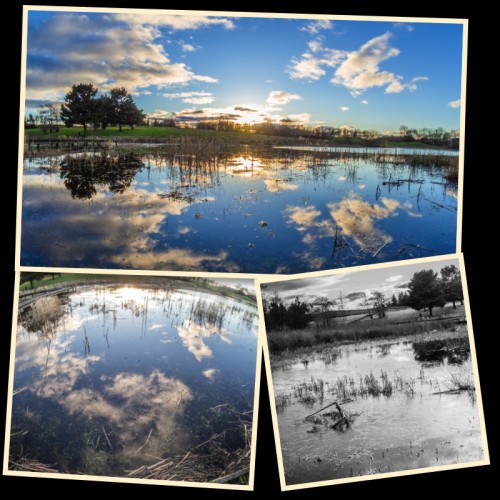 So what of the day?  Well, it was a really early rise with the alarm set for 5.30am.  A quick breakfast and a couple of mouthfulls of tea then out to defrost the car.  It wasn't too bad really, only about -1ºc.  It had been colder during the night, but now there were clouds hiding the moon which raised the temperature a bit.  Next we loaded the cases into the car, because today Scamp and her sisters were off to a place where there is rarely, if ever a need to defrost the cars, Fuerteventura.
I was supposed to run them to the bus station in Glasgow, but the CITRAC signs said it would be an easy 19mins to the airport, so I decided to just extend the run out to there instead.  Indeed, for once, CITRAC was right and it was a textbook run out along the motorway.  Dropped them off and set off back down the motorway again in the opposite direction.  I had expected heavier traffic heading east into Glasgow, but the gods were with me because it was far lighter than I had anticipated and I made good time back home.  I was glad I'd left the heating on.  Nothing beats a warm house to come home to.
Today DPD were delivering my new (new to me) camera.  I'd finally settled on an Olympus OM D E-M10.  Apparently:
D is for Digital to separate it from the old OM1, 2 and 10 film cameras
E is for Electronic (duh, I think the word 'Digital' gives the game away)
M is for Mirrorless
10 is for the model number
Really?  Do we need all those numbers and letters?  Why don't they just call it an OM 10D?  Olympus don't make anything other than mirrorless cameras and compacts now anyway.  Maybe longer names make the objects look more important.  Audi seem to do quite well with one letter and a one number.
Anyway, the parcel arrived dead on the target time of 15.08.  Signed for it and carefully unpacked it – no I didn't, I ripped off the bubble wrap and stuck the battery in it to see what it could do.  As with my other Oly cameras there were a multitude of menus to navigate.  Luckily, this one was very similar to the E-PL5 (don't ask what the letters and numbers mean), so it wasn't the steep learning curve I had there.  Suffice to say that I headed off to St Mo's to test it and some of the results are show above.  Am I impressed?  I have to say yes, reservedly yes.  It's a very small camera.  Not too small, I think, but I wouldn't want to work with anything smaller.  I remember when the OM1 came out in the mid '70s, everyone said it was a lady's camera, but a few professional photographers whe were big blokes took a shine to it and it gained acceptance.  I thought it was a lovely camera.
While waiting for the new toy to arrive, I monitored the sisters flight down to the Canaries on Flight Radar 24 which gives vast amounts of information to those interested in such things.
So, the car goes in for MOT tomorrow and I'm hoping to take my mind off that by taking some more photos.  Not testing – taking.