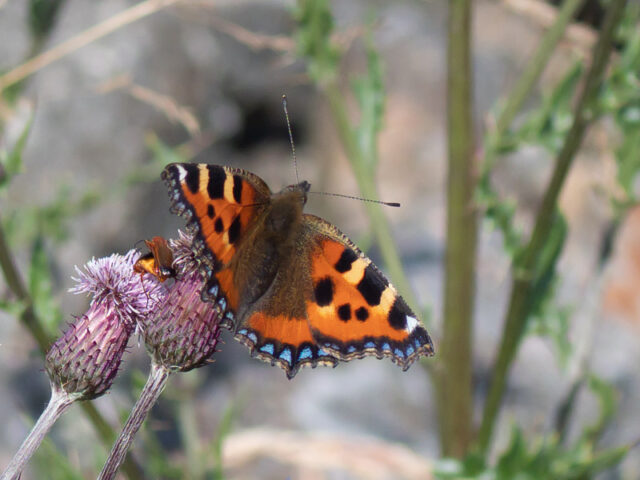 It was cloudy in the morning, but it cleared up quickly. It's 10pm now and it's still warm.
Because there was a bit of a breeze, I set up a tripod and tried a few slow shutter shots, but the Gorillapod was too low and the Benbo wasn't quite stable enough, so they turned out a bit shaken but not stirred. This slow shutter thing needs more practise. Made up for my disappointment by taking even more landscapes.
Scamp started to make a Swiss roll in the afternoon. She called it a "Live Bake" after the disaster of Friday. Her technique seemed to impress the assembled audience with her rolling up the baked 'cake' in the silicone baking paper
After lunch we sat around the house and found cool places to be. Sim went for a run. In the heat! Down the hill then up through the fields to an old ruined house then back along a single track road to the house. She declared it a good run. We took her word for it.
Later in the afternoon Scamp and I walked for half an hour along the single track road with few passing places. Fairly easy going. Harder climbing the hills coming back
JIC went for his run on the same short route we took. He was much quicker than sim.
Neil D was on dinner duty.Turkey pilau. Rice maybe a little bit stodgy he thought – we didn't. We thought it was lovely. Just blame it on that oven, Neil.
Scamp finished the Swiss roll and coated it in ganache. I helped with the decorative white chocolate dribbles after Scamp managed to burn her fingers lifting the cup containing the melted white chocolate out of the microwave.
PoD was a Small Tortoiseshell Butterfly that Scamp and I saw on our afternoon walk.
Sprite, Gin and Rum all round tonight and an early bed again.