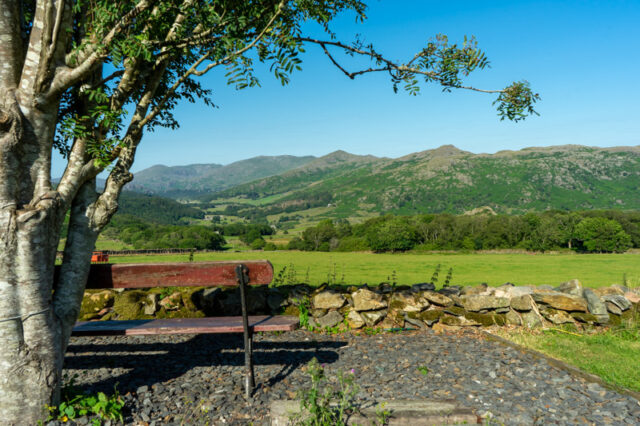 Driving down to our first family meet-up for a year and a half.
We had a funeral to attend in the morning for a friend of the family. After the service we drove home, changed and started the process of loading the car. Surprisingly we managed to squeeze all those bags into the boot and the back seat.
Drove down the M74, A74, M6 then the small roads under a blazing hot sun. After that, the smaller roads. Finally the tiny roads, nearly all single track. We've driven on single track roads before, we've been to Skye and know the way they work. It's all to do with keeping a one eye on the road in front of you and another on the road a hundred meters ahead. We managed the twists and turns and the steep climbs with the similarly steep descents. I was amazed when the sat nav took us to the door!
Sent a message to the other family members who were driving up from the south. Hazy & Neil D were the next to arrive. By then we'd investigated the house and found out where everything was. So after showing them round and asking after Neil's family the next pair arrived.
JIC & Sim were about an hour behind H&N ah, but now there were four of us to show them and Vixen round the house. Rooms were allocated and agreed and we sat down to talk as families do that haven't seen each other face to face for too long a time. We also took some an opportunity to take in the stunning scenery of Cumbria, especially the hills on the other side of the Duddon Valley, oh yes, and the silence!
We had previously agreed that all six of us would take turns at cooking. Tonight I was cooking Chicken and Pea Traybake. It's simple and easy to do and it does taste good. However, I'm used to cooking on a gas cooker and here I was faced with an electric one. Also our oven has gas marks engraved on the dials. This one had nothing. Luckily someone had made a sketch of where the cardinal temperature settings were and what the four clicks on the settings dial controlled, oven, grill, fan grill and cool. I've never heard of an oven with a 'cool' setting before. Maybe it's an English setting. The meal was made, on time and it was ok, just ok. Everyone was very polite and nobody said it was awful, but it wasn't the best thing I've ever made. We didn't starve.
I think everyone was too tired and too hot to do much later and bed was calling us, so we headed to our room.
PoD was the view from the house across the Duddon Valley to the hills beyond.
Tomorrow we may go adventuring.