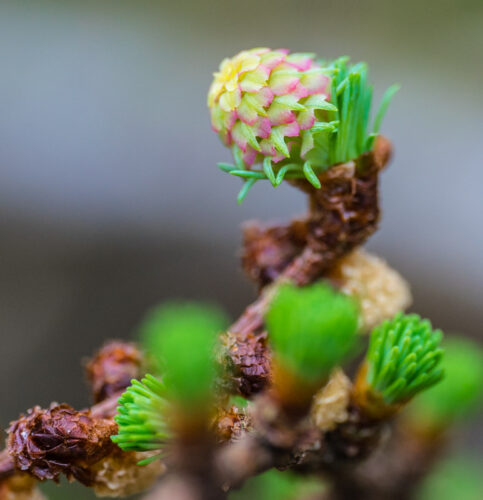 It was a windy old day today and a lady arrived and asked us to stick something down our throat and then up our nose. What a fun day.
We'll get to that in a minute, but before that I cleared my painting table and put the potting tray on it along with four flower pots and one of those plug trays that look like the inside of a chocolate box, vacuum formed for those who used to teach about such things. A bag of that disgusting peat-free compost and a trowel completed the inside gardening accoutrements. I already had the seeds in the room and I proceeded to fill the pots with compost and sow Yellow Aquilegia, Strawberry Aquilegia and plain old natural Purple Aquilegia. Next was the plug tray. It too was filled with the same compost and into it was planted peas that I'd harvested last year with this exact purpose in mind. Two peas to each compartment. They might be Boogie or Ambassador or some other pea, I'm not sure. I took everything back down to that windy garden and watered all the seeds with pure rainwater and put them in the greenhouse and zipped it up to keep out the wind and hopefully to capture some of the sun's warmth. Let's see what appears.
The lady arrived, an Australian lady this time. Strange, it's always been a lady who brings these instruments of torture and asks us questions. This time she was offering another year of tests although we are only part way through this year's lot. The next tests are blood tests and I don't think we'll be taking them. I don't mind the questions and the swabs, once you've done them a few times aren't really all that bad. However, we were discussing the blood tests and assume we'd wouldn't be able to do them in the kitchen. If that's the case, then we might have to travel to Motherwell to the big 'Tumbling Dominoes' centre to get the blood taken. In summer it's an ok drive, but a waste of a morning or afternoon, but in the winter it's a different story. We'll wait to see if we get offered them and what the procedure will be, but I think we're thinking we're doing enough.
Just after she left our Tesco order arrived with a substitution of Kinder Eggs for the Cadbury's Cream Eggs Scamp had ordered. This was a surprise to me because I didn't remember ordering them. Scamp was annoyed because it was meant to be a surprise for me, a good surprise. So the Tesco delivery man is in the same bad books as Alexa, who divulged the content of the delivery that was to be a Scamp's birthday surprise.
I went for a walk later in the afternoon when the wind was calming down a bit and the rain that had been on all day had stopped. I wanted to see if I could find some Larch Pineapples, also called Larch Roses apparently. I couldn't find any although the pollen dispensers were there in their hundreds, then, high up in the tree I saw what looked like a 'pineapple'. I walked round to the windward side of the tree and finally found a couple of 'pineapples' just above head height. The wind was gusting strongly on this side of the tree and out of the five shots I took, the one you see was the only survivor of the cull when I got back home, and by virtue of that, the PoD. You can see how the shape of the pine cone is already there in the petals of this flower, because that is what it will turn into, a pine cone.
Hoping for a better day tomorrow. Today was wild and wet, but warmer than it's been of late. Tomorrow will be cooler as the wind turns more northerly, but hopefully we'll manage a walk.