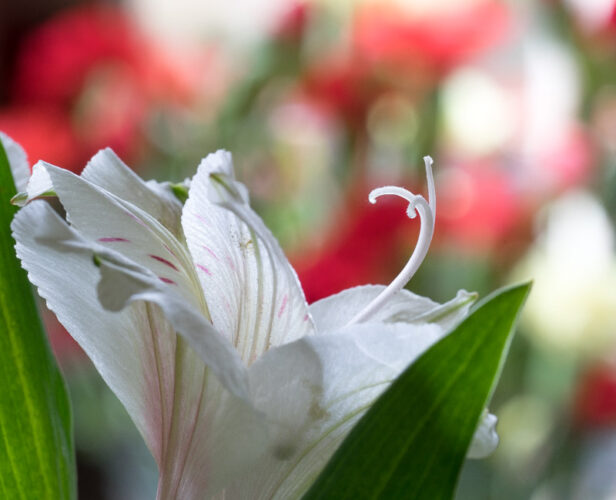 We went out to the shops and that was the extent of the outside ventures today.
We wouldn't even have gone out if we hadn't needed milk and some fruit. That's how bad a day it was. It started raining as we were coming home and then, just as we got in, the rain came down in torrents. It stayed almost all afternoon, only getting lighter later in the day. By then the light was failing anyway, which made a walk pointless. Instead I resorted to a flower picture. Just to make it more interesting, I did a macro of one of the fading Alstroemeria in Scamp's vase. They actually looked better earlier in the week, but I didn't have time to photograph them properly. Today I did have that time to be more careful with exposure and focus. I also chose to keep some colour in the background, using some carnations that were sitting on the window sill. All in all, quite happy with the result.
Dancing tonight was difficult. I think we're fairly competent with the Rumba, but I wasn't looking forward to the Telemark Turn in Tango. I thought it was something to do with skiing and actually it did look like I was skiing when I was dancing it. After the class was over and I had a chance to look at the video tutorial for the tango, I found where I was going wrong and I think we now look as if we are dancing, not skiing!
Spoke to JIC as we cooled down after that hot tango and got an update on life in the south with the prospect of a heat wave while we struggle to get up into the low teens.
Watched the first F1 GP of 2021 and watched the 'delusional' Vettel drive into Esteban Ocon's car. Not my words, but David Coulthard's. It looks like Vettel's going to continue the Wacky Races style of F1 driving he started last year.
Tonight, high winds and rain made a wild and wet end to a dull day. Hopefully tomorrow will be calmer if not drier.