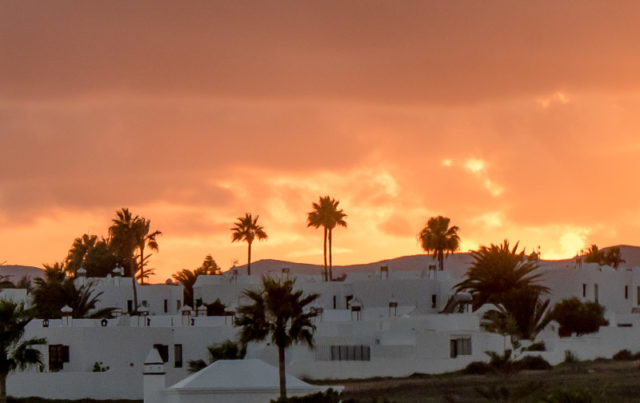 After breakfast we sat in the warm sun in case it would disappear. It didn't.
We sat in the sun for most of the morning. Later when it appeared that the sun was staying with us for the day, we went swimming. I swam in both the pools. One was cold and the other was warm by comparison, but not by absolute temperature. Some people who waded in to the 'warm' pool thought it cold! This was the pool with the bar and the underwater bar stools. All it lacked today was a barman. He was otherwise engaged clearing tables and serving drinks in the other bar outside the pool.
After lunch Scamp went sunbathing I went looking for dragonflies. I thought I'd seen one yesterday when I was coming back from the lava fields. I didn't find any dragons, but got a few shots of a Brimstone butterfly photos. I wished I'd brought the Oly M5 with the macro lens, but you can't have everything. The Teazer and the iPhone were doing sterling duty as default image grabbers. Thought I saw a young fox, but it turned out to be a feral cat.
Later we went for a walk and got then wrote postcards. Couldn't find a postbox, so that's tomorrow's task.
Watched a beautiful sunset this evening. Lovely colours and massed clouds with the sun finally going down behind some palm trees just outside Los Pocillos. That became PoD.
We had forgotten to bring our usual assortment of games, so I bought an UNO card game. Scamp won five games in a row against my none! Not a happy bunny! Sitting in the covered area with the flame heaters on.
Tonight's show was about dance. Quite funny and enjoyable. Lady in Red sketch was memorable. Drunk woman at the end of the night was not funny! Not Scamp I hasten to add!!