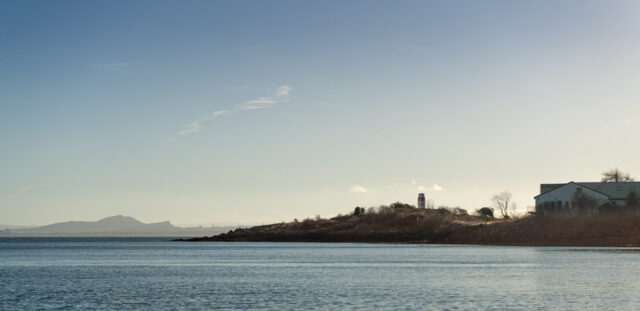 What better place to be on a bright and not too cold January day, than on a Scottish beach?
Scamp wanted to go to the seaside today, to the seaside on the east coast. That's why we packed up the car with photo gear and drove across the country to Aberdour and down a road that led to the Silver Sands.
The Silver Sands are well named, because the smooth greyish sand does sparkle in a silvery way when the sun shines on it, and the sun was shining today. We drove down a narrow road with monumental potholes, unavoidable in places. If you missed one with the left tyre, the right tyre found its neighbour. Luckily it wasn't a long drive and we got parked easily in an enormous carpark, one of about four as far as we could see. From there we walked down to the beach and those sands. I don't know if they sweep that beach every morning, but it was perfectly smooth and not a lot of litter showing either.
We walked along the beach in one direction, and then in the opposite direction. We saw one girl wearing tee shirt and shorts paddling almost knee deep in the sea … in January (??) I thought at first she was just a child, but as we got closer to the family group, it became obvious that she was a bit older than that, and possibly crazy. Who in their right mind would go wading into the water at this time of year? Well, the answer came when we walked back in the other direction. Two girls waded out of the water, but they were dressed for it in wet suits and with those fluorescent buoyancy aids wild water swimmers trail behind themselves.
We left them to their exercise and headed for the cafe for a coffee and a bite to eat. Panini for me and a tub of chips for Scamp with two coffees to wash them down. The cafe was remarkably busy given the fact that it was a weekday and mid January, but I suppose it's only the second decent day we've had for a long while. I imagine this place will be mobbed in the summer. We both agreed that we'll come back and find out.
We drove back and got completely lost following the sat nav that was supposed to be taking us in the direction of Stirling. Instead it was determined to take us via Kincardine, so we eventually agreed to go with it. I thought we might stop for a photo opportunity at Torryburn, but the low sun was shining right in our faces and a low mist was obscuring what scenic view there might have been. We drove home.
Well, we drove home via B&Q to get some fixings to make that pedestal I spoke about. Our B&Q is a bit run down. It's in a retail park where the only store that anyone goes to is Halfords. All the rest are carpet shops or cheaply made furniture sold at about twice what they're worth. We are getting a new retail park with a cinema, a bowling alley, a hotel, restaurants and, well, anything you could want. It'll be ready in early …. That's the problem. It's just a pipe dream and I'm not sure what they're smoking in that pipe, but the story is convincing nobody. So, our B&Q had the corner connectors, but no screws to fit them. A do it yourself store that can't do anything itself. We drove home.
That was about it for the day. I had a look at the photos I'd taken today and they looked pretty good. The new toy does take very nice photos. A view from Aberdour looking over to Edinburgh got PoD. I think Scamp really enjoyed that walk along the beach today. It certainly seemed to lift her spirits. It was a lovely beach and great views across the estuary to Edinburgh. I think it's on our list of places to go back to.
Tomorrow looks like a return to dull, cloudy weather with the chance of rain for a while. I've got some woodwork to do, so that might keep me busy and we might get out for a walk later. We got a message from the couple who run our dance class to test the water for a return to class soon. Let's hope things are opening up again. We'll know more when Nick the Chick gives her proclamation tomorrow.