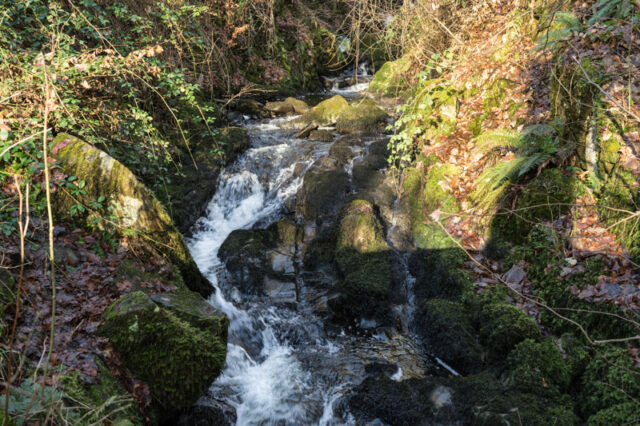 It was a cold start, but clear. Scamp suggested we go for a walk. I suggested Colzium.
So we drove over to Colzium Estate on the outskirts of Kilsyth. We'd walked it many times, but today we took a different path. Not really a new path, but one that's been closed for a few years for reinstatement of fences. It is a steep and winding path that leads up the side of the Colzium Burn to a wee bridge over the burn, then down the other side past an unofficial animals' graveyard. It was a tough climb, but it was a beautiful day and the light was perfect. Got a few slow shutter shots of the waterfalls from the bridge at the top, but it was one of the faster shutter shots that eventually became PoD. After that we walked on past the house and the bloke who was working his metal detector over the grassy park area. I wonder what he was looking for. There was a battle near there hundreds of years ago, but not on the site he was prospecting. Maybe he knew better than the historians.
We walked a path to the right which climbed up a hill and turned out to have been the drive into Colzium house from the Tak ma Doon road. We didn't go on to the road, but took a path to the right which led down and round to the walled garden of the estate. On the way we passed a sign for the ruins of Colzium Castle. I never even knew such a place existed. What little is left of it is now been build into the side of a house on the estate. Back round to Colzium House and then round the boating pond which has now silted up so badly there's hardly enough water for the ducks and swans to swim in. From there we walked back to the car and drove home. An interesting morning that stretched into the afternoon and helped us amass just over 5000 steps.
Dinner tonight was Chicken Curry. I was reading about it in January 22nd 2000 blog last night. I'd forgotten all about this easy as pie chicken curry. If you care to look it up you can find a link to the recipe that's still live. It certainly is easy and tasty.
The photo from the top of the Colzium Burn got PoD after a bit of massaging in two different apps. However, it doesn't matter how it got there, it's the result that counts!
Scamp got a bit of bad news this morning. Netta Lennox died yesterday. Hazy, you might remember her from choir. She was a lovely lady, one of the original Gems. She was over 90 and had been ill for some time.
Tomorrow looks cold. It's just below zero now and still dropping. We may go out somewhere if it warms up.