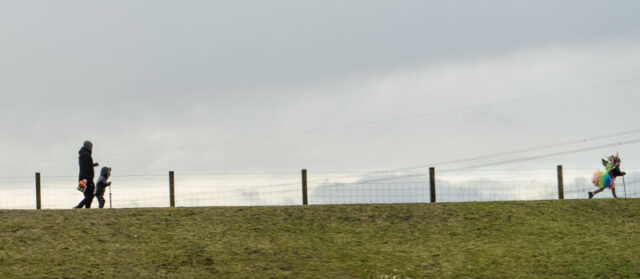 It's so rarely we go in to shops these days that it's worth a mention.
It had been snowing during the night, but nothing like some folks in the east and the borders had experienced. We just had our usual dusting of white stuff. By the time we were getting up it was all but gone.
After a bit of indecision we chose to go for a walk before lunch. It was a bitterly cold wind blowing from the west that met us and made us glad to turn our backs on it when we had crossed the dam at Broadwood Loch. As we followed the steep path down towards the exercise machines I turned and saw today's PoD, well not actually that one, but one very like it. A wee girl with fairy wings and a colourful tutu was flying along on a scooter on the path above us. I took a few shots and knew I had a decent one or two in the bag.
We walked on with Scamp braving the big deep puddles rather than the squidgy mud at the side of them. On and round the exercise machines took us up the hill to the shops. We needed fruit and I thought Scamp deserved a bunch of flowers for getting her boots wet. I've started wearing fingerless mitts again, the ones Hazy knitted for me a few years ago. They are ideal for wearing to use a camera, leaving my fingers free for the inevitable adjustments I have to make, while keeping most of my hands warm. Also they have FOTO and GRA4 stitched into them, just in case anyone thinks I'm just out for a walk. No, I'm a Photographer! They are also idea for wearing when you're carrying a bag of messages, giving that bit extra dexterity that gloves deny you.
My second Bread Kit arrived just before we went out. It was for Honey Wheat Baguettes. They look simpler than the focaccia, but looks are deceiving. I'll have a go with them soon.
After lunch I decided to bolster my collection of photos from earlier and went for a walk in St Mo's. I think it was getting colder, although the wind was dying down. I could see a magical sunset building, but couldn't get to a place where I could get a good shot of the sky and a reflection of it in the pond. I finally gave up and just took a shot of a pine tree with the sunset sky behind it. Best I could manage. My feet were wet and I was getting cold. It was time to head home.
When I was reviewing the photos on the computer I had decided on my PoD and had it processed and posted, but still wasn't happy with it. It just didn't tell the story. Then I found one I'd overlooked and saw its potential. It told a much better story, and that's what you see here.
Dinner was one of Scamp's brilliant stir-fries. They are usually good, but for some reason this one was exceptional. I think it's because it was just ordinary veg and prawns that were in it. No fancy ingredients, just really good cooking skills. Lovely.
We had a bit of a dance practise tonight and went over the Mambo Marina and also the start of the Rumba routine with its strange start on beat two which I still say is just to be different. I'm getting there with both.
Tomorrow looks cold but bright. We may go out somewhere for a walk.