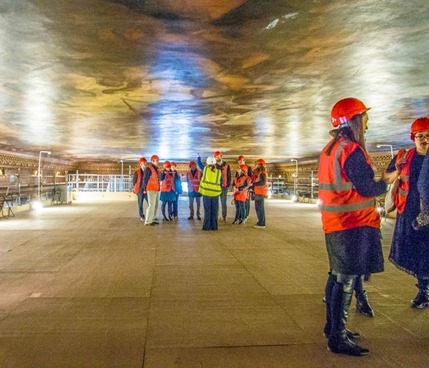 Today we walked to the station and with ND's help, took the train from Chessington to Greenwich. From there, we just followed our collective nose until we found a Costa for a seat, a coffee, something to eat and a chance to regroup to decide where we should go. Initially we had intended going to find the 'Meridian', but after finding we were near the Cutty Sark, we chose instead to go and see it.
The last time we had been to Greenwich we hadn't seen the Naval College properly because they were filming something in it. This time we did get to see it. We were intrigued by the possibility of seeing the ceiling of the college which apparently was very interesting. When we got to the Naval College we found the place completely covered from floor to ceiling in scaffolding. Oh, oh it looked like we weren't going to see that remarkable ceiling with its artwork. However, on checking with one of the guides, we discovered that you could get to see the ceiling, not only that, but you could see it from close range, almost close enough to touch, except you weren't allowed to touch. We both quickly agreed that we'd risk the ascent of the scaffolding with a guide of course and go see that ceiling. First we were kitted out with a tabard (ours was the green group) and a hard hat to match. Remarkably, this is the first time I've worn a hard hat since I was an apprentice draughtsman way back in the mid '60s. We then had a talk about the hidden meanings in the enormous mural in the far wall before we made the climb.
The mural was impressive, but nowhere near as impressive as the painting covering the entire ceiling of the hall. As promised, it was close enough to touch at a stretch. I didn't stretch. Again, the hidden meanings of the painting were revealed as we walked along the 'floor'. To prevent damage to the artworks, the lighting was quite low and of course we weren't allowed to use flash, not that I would. We could have opted for radio headphones, but I'm glad we didn't because our guide was so knowledgeable and able to answer questions, something you don't get with a recording. All in all, a brilliant afternoon and one I'd recommend to anyone visiting London.
By the time we came out, it was time to head for home, but not before we had a spot of lunch in the market. I had pakora and channa daal. Scamp headed for the slightly sweeter churros stall. A bit out of character, but still food and from an independent retailer, and that's how we work.
Got the train back to Chessington and walked back to the house, although we did stop for a beer and a G&T at the pub, because it was there!
Neil was out tonight, Scamp, Hazy and I sat and watched a film while eating pizza. What else do you expect on a Friday night.
Tomorrow, ND is taking us to a market, I think.