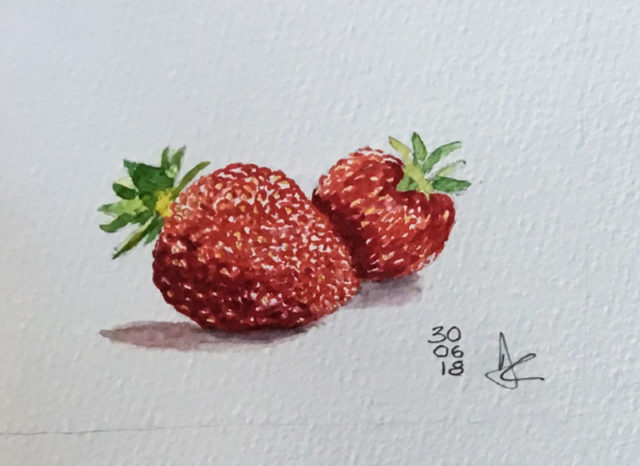 Today was the last sea day of the cruise.
It was also the last full day of the cruise and the last art class and the last salsa class. Art class was a challenging painting of two strawberries. Not real ones, but a painting from a photo as all the previous ones had been. For this last class both morning and afternoon groups were joined because there was to be an exhibition of work in the afternoon. Easa's technique is totally different from anything I've used before. He works in a very detailed way. As an example, after sketching the shape of the two strawberries, our first task was to draw the individual seeds. Have you ever stopped to count the number of strawberry seeds are going into your mouth? I bet you haven't. People laugh at me because I crunch my way through all an apple apart from the stalk. "You'll have an apple tree growing in your stomach" I've heard folk say. That may be so, but do you spit out all those strawberry pips too? After painting in the seeds we had to then paint round them, not all the way round all of them because he wanted some white paper left for highlights. Then we added dark red for the shadow areas and a bit of green for the leaves. When it was finished I was quite pleased with the effect. I'm glad I was in the small morning group. I couldn't have done with all the preening that went on from some of the afternoon group.
After lunch we joined the salsa group, but only for half a class for me because I had to go set up my paintings. Afterwards, I met back up with Scamp as the salsa class finished. We didn't go for a swim today because the thought of packing wet swim suits was just too much. Instead we started packing, well, I started packing as Scamp had already started while I was counting strawberry seeds. It's a sad task, packing after fourteen days, but it has to be done.
Dinner tonight was with a mixed bunch. Grumpy old woman, young couple and an older couple who were ok. The girl from the young couple was full of her own self importance. She was working for Charles Hanson the auctioneer and antiques expert. It appeared that some of his expertise had rubbed off on her as she knew everything about antiques too. Some folk just love to blow their own trumpet. I reckoned the old grumpy woman was her mother. If she was, then pity the poor bloke who married the daughter. Nothing was good enough for this battleaxe.
After dinner we went to the Tamarind club where there was to be a Salsa Hoedown with both the line dancers and the salsa dancers taking part with the whole thing being supervised by the Headliners theatre group. It was great fun. I didn't do any of the line dancing, I forgot my cowboy hat, but I enjoyed the salsa. Scamp, of course took part in everything. It was a great end to the cruise and one that will stay in my memory.
Tomorrow we depart for our ten hour trip home.