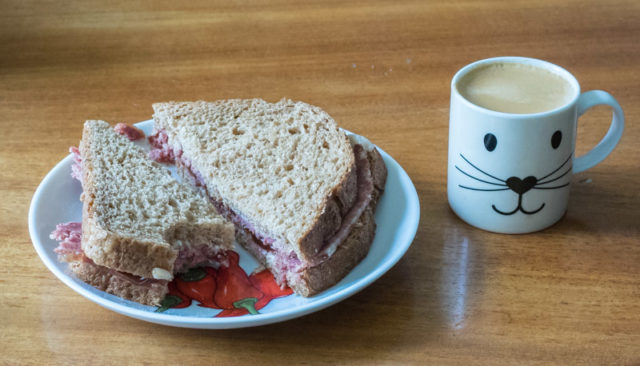 Back in the old routine, almost.
Down at Blackfriars for some new moves in all three dance styles. The jive one was fairly easy and I think I can remember it quite well because it was a variation on a move we did a long while ago, The Boston Hitch. Waltz move was very stylish, but doesn't have a name yet. Neither did the Quickstep move and it was the most challenging of them all. Overall, it was a successful hour and we learned more about dance craft from Michael. Coffee then home in the rain.
The rain didn't go off when we got home, it just kept going and going. Eventually I gave in and went for a walk over to St Mo's in the rain. Got a few shots, but nothing special. My favourite, and therefore PoD was my alliterative lunch Corned beef and coffee from a cat cup. It was an espresso cup that Scamp bought me yesterday in Perth. I thought at first it would be too small to fit under the portafilter, but it did just fine. A perfect size.
No dancing tonight as Jamie Gal is off somewhere important again. Dinner was mince 'n' tatties for me and rats 'n' tatties for Scamp. I expect she'll have the remainder for lunch tomorrow and I'm hoping to have the remaining mince with an egg cracked into it and poached in the gravy. A Larky special!
No other plans for tomorrow. It looks like more rain.