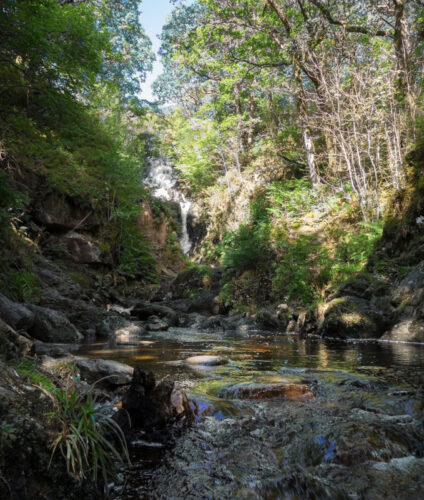 As is traditional, Blue had to visit DML within the first week.
We drove the traditional route too, just to see if Blue (named by Scamp today) was big enough and strong enough for us. The route took us through blue-rinse Callander and up over the Duke's Pass. It's a road that has enough tight bends and sneaky climbs to test any car, but thankfully Blue passed with flying colours.
Parking was free today, presumably because of Covid restrictions, but the actual lodge was closed. The place has been called David Marshall Lodge for as long as I can remember, but recently it's been rebadged "The Lodge". Allegedly because nobody knew who David Marshall was. If that's the case, build a statue to the man, place it in a prominent spot and put a plaque there explaining his significance. After all it was named in his honour after he pushed to have the lodge built. It's in the Queen Elizabeth Forest Park, but I don't see any of the pinheads deciding to rename that to "The Forest Park" because royalty are falling out of fashion (and falling out with each other). Wait until the slave stories start to come out, then there may be a change of heart.
Following the traditional route, we drove down through Aberfoyle and stopped at The Smiddy near Blair Drummond. I had a burnt burger and Scamp had Mac 'n' Cheese, both of us had their excellent chips. Shame about the burnt burger. I don't think that will catch on. Had a look at the lovely looking cuts of meat at the butchery counter and at the expensive groceries in the deli. Neither of us was tempted by anything there, but Scamp bought a carton of milk for more than twice the price Tesco were asking.
Drove home and again were amazed at the 60mpg we were achieving in this tidy little blue car. Not as smooth or as big as the Juke, but big enough for us and it had achieved a pass at the Dukes's Pass.
PoD went to a view of the river that runs through the park with the waterfall in the background.
Tomorrow is Saturday and we have no plans.