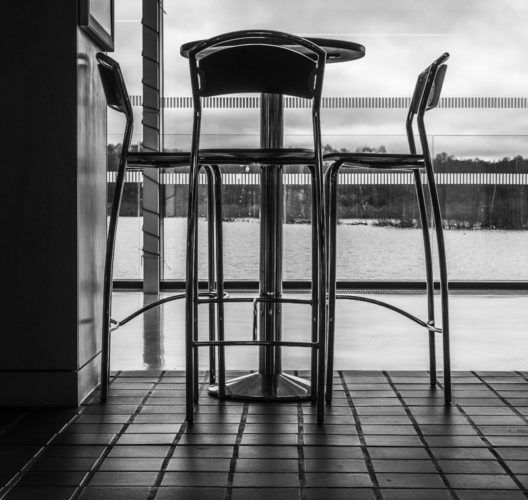 Accomplished another 'out before 11am' .
Down to the village to pick up Isobel at 10am. Drove her to her pre-op appointment at Monklands. Thought we might go to The Fort for a cup of coffee and then pick her up again later. She reckoned it would take about an hour to get her tests done and speak to the surgeon. The satnav thought it would take about half an hour to get to The Fort from the hospital and that would leave us no time for coffee, so, as we were on the road to Drumpellier, we changed our destination to there. A cup of coffee, a bit of a walk and then check in with Isobel to see if she was ready.
It was a cold, dull day at Coatbridge, but we had the coffee and a scone each then we did go for a walk. In the cafe I snapped the high chairs because I liked the way the light shone on their chrome and the silhouette they made against the window. It would have looked better if the windows had been clean, but it is Coatbridge after all. The fact that the windows are still there is a minor miracle.
On our short walk we passed a bloke with a nice bit Nikon fitted with a long lens.  He also had a spotter scope on an equally expensive looking tripod with a smartphone clipped on to it. The only bird life I could see were a couple of swans, a goosander and about a million seagulls. (By the way, my spellchecker just tried to change 'goosander' to 'goo sander'?!). Back to the bloke. Poor soul looked frozen. I wonder what he was waiting for. Flamingos perhaps? Scarlet Ibis? Spoonbills? We'll never know. I hope he found them.
Just leaving the park, Scamp phoned Isobel, only to find that she was still waiting in the first queue for the ECG and had another three tests and therefore another three queue lined up before she met the surgeon. She said thanks very much, but she would get the bus home rather than having us wait around. We drove back home via The Fort because Scamp wanted to get some cold remedies from Boots, and because we were out anyway.
Back home I changed into my boots and old cord trousers and went for a walk in St Mo's. The light was too low for any photography, so I fed the ducks and swans with some bread. Then I noticed the barriers were down at the boardwalk and I decided I'd have a walk on it, just to make sure it worked. It did. It held my weight. I even did a wee selfie as a reminder! Maybe they'll ask me to cut the ribbon when it's officially opened!
PoD was the High Chairs.
Tomorrow we may go to Perth for coffee or Larky to order new glasses.