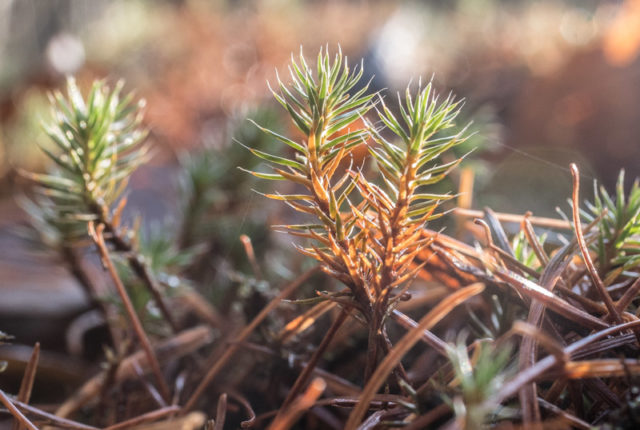 It wasn't lost after all. I was just having a rest yesterday.
I was out early today to make sure of capturing some of those little photons and storing them away in an SD card. Yes, I was taking foties. Scamp had already been out to the doc's for her medication check and back again. I went over to St Mo's and got some good light. Grabbed a PoD which is a low down macro shot of some sphagnum moss strands, looking like miniature evergreens. Got back just in time to go out again to meet Colin and Fred for coffee. Scamp was off again to see what the retail paradise that is the Town Centre had to offer the discerning shopper.
The coffee snobs centred around pubs in Glasgow (a common topic among us), books and the NHS. Given that tomorrow is polling day and Fred is a political animal, it was strange that the merits and demerits of the leading campaigners did not enter into our conversation. Maybe it's not all that strange. I think we're all a bit jaded with the whole shebang. It's become a tactical election. Pick the person you don't want to win and vote for anyone else. Much like the old Scottish football question:
Question – "Who are you supporting in the World Cup?"
Answer – "Anyone who's playing England!"
(Notice that Scotland is never mentioned. We don't do the World Cup.)
Drove home into glaringly blinding sunshine to collect Scamp and take her to the doc's again, this time to get her flu jag. By the time we were coming home, the sun had set and the day was sliding into evening.
When Scamp had been out earlier, she had bought the makings of Stir Fried Prawns with Singapore Noodles. Sounded great. I volunteered to make it. It tasted as good as it sounds. The sauce that came with it was labelled Soy, Chilli and Ginger, but it smelled like simple Brown Sauce, the stuff that comes out of a square bottle with letters HP at the top. The strange thing was it didn't taste anything like it! Must have been my cooking skills that transformed it.
The weather has turned back to rain again and it's forecast to further turn to snow during the early hours of tomorrow morning. We're booked to take Isobel to Monklands in the morning. Let's hope the snow has gone by then.