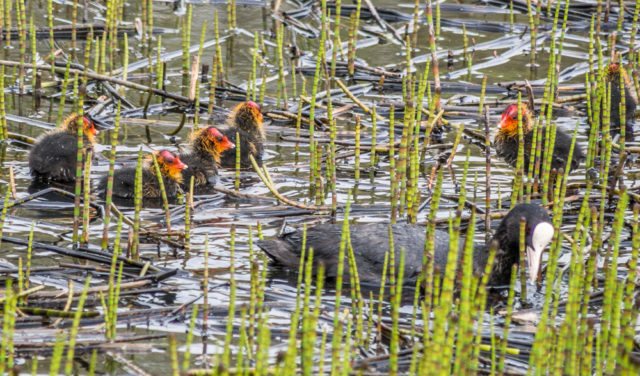 Not exactly driving all day, but it seemed like that to me.
Out at 12 to drive to Larky for my cousin Alex's funeral. Don't panic Hazy and JIC, not brother Alex, cousin Alex. We hadn't spoken for years, about 20 years to be a bit more precise. However, my conscience demanded that I go to pay my respects. It's what you do.
After the service we came home because Scamp was going out to one of The Witches' 60th birthday bash in Milano. After a quick change, I drove her to Milano so she could enjoy a drink (or five) with the girls. I took the opportunity to wander St Mo's with the heel of a home made loaf to see if any of the residents wanted a late lunch. Found Mr & Mrs Coot out with the red headed weans who where very receptive to a big bit of stale bread. I think there were about eight baby coots in the brood. Quite a handful I'd imagine. Checked the photos in Lightroom when I got home and they looked good, so PoD was sorted if nothing else.
I sat and read for a while after that, enjoying the peace and quiet before the next episode of the day. Scamp phoned asking for a lift home because the others were ensconced in the restaurant for the rest of the day. Picked her up and after another swift change went to pick up June to drive to Larky again for dinner with C&N. Great dinner and conversation with them and eventually left just before 1am and, because of roadworks on the M74, chose an alternative route through Bellshill. Only to find that I'd driven back on to the M74 again! We still can't work out exactly what went wrong. Personally I think we went through a time slip and the roads lost alignment somewhere. We definitely took the Bellshill turnoff at the Raith Interchange, but the next sign we was was for Shettleston. Anyway, with my excellent navigational skills we found our way back home about 2am. Today, because I'm writing this on the 7th May, I'm still exhausted.
Scamp said that if anyone was watching our comings and goings on Friday they'd have wondered what was going on. She had had four changes of clothes on the day! Just showing off? Oh, surely not.
Off to Ayrshire today to visit Dorothy.